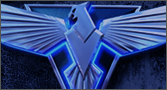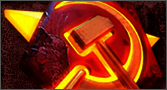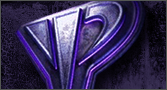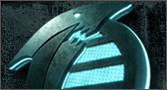 Mental Omega News Bulletin #31 (30/10/2020)


So, just recently Red Alert 2 has had its 20th Release Anniversary! The game and its community's support has been going strong for the last two decades, so hopefully the trend continues through all the interesting projects that focus on this bizarre war between the Blues, the Reds and That Other Bald Guy. As I used to say, Long Live Red Alert 2, still the best game in the series. Given the success of the Remastered Collection, who knows, perhaps a revival of it is potentially on the table in the future. I'm sure you're just as curious to what the future of Command & Conquer holds as I am.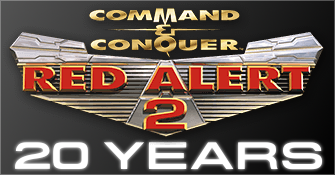 Now here's the thing. The set of final 8 missions of Mental Omega is built around a single narrative, telling one story from different perspectives. This means, they can only be released together, all at once. Due to various circumstances, as of this moment 5 out of the 8 final missions are finished. This has generally been a difficult time for all of us, and in our team we only have so much of our free time that we can spend on this project. After all, studies, work, family take precedence, especially now. We are getting to the end, but I can't exactly say when we will - these last missions are rather complex and demanding to design, and we want to make sure they work just as well as we intend them to. With all that said, everything else is ready and so we are going to release this update to you as-is.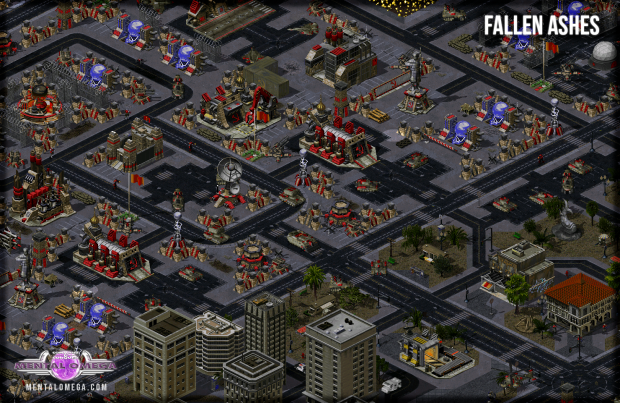 A lot has changed since the last release, the Mentalmeisters team has welcomed new members, thanks to which a major overhaul of the entire campaign was possible. All of our singleplayer and multiplayer missions have been heavily revamped, with their visuals, script and even bits of lore reworked to various extent. We have further adjusted the difficulty of the campaigns, making sure that Easy setting, now known as Casual, becomes more accessible to everyone, while Mental retains, if does not up the challenge a bit.

In addition to this revamped campaign, we have prepared 6 new Special Operations and 1 new Co-Op, which replaces one of the previous maps. Yes, that is the name we'll be going forward with for this set of additional missions, since sometimes there's confusion between Covert Ops and Co-Ops. Do note that these Special Operations have been designed by different mappers than the ones currently working on the remaining final missions.
Allied Special Op Mission Digital Demon
Allied Special Op Mission Convergence
Allied Special Op Mission Parasomnia
Soviet Special Op Mission Trophy Hunter
Epsilon Special Op Mission Fallen Ashes
Epsilon Special Op Mission Split Seconds
Epsilon Co-Op Mission Monochromatic
This update also gives all of the previous Special Ops their proper unique loading screen.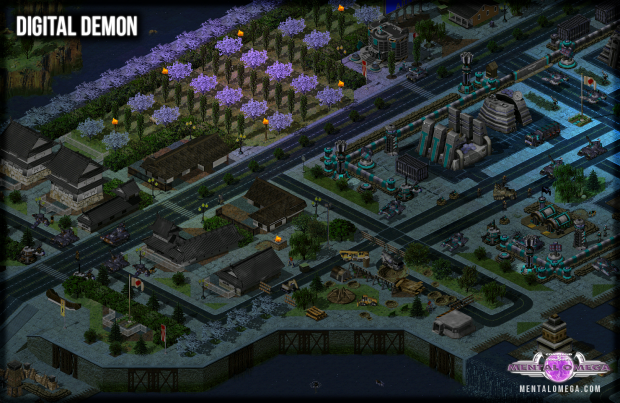 As you could expect, new Challenge maps have been designed and added to the game, four of them.
Aberration Challenge against all 3 Allied subfactions with a tech level switcher
Ironwall Challenge against the armies of China with a powerful experimental weapon
Gladiators Challenge where your enemy has advanced weapon-disabling effects in use
Judgement Challenge where a mysterious force is capable of perishing all of your bases
The skirmish map pool expansion is the biggest one yet for a single update - over 100 new maps to fight on! Many of these maps use new terrain tiles we have prepared for this patch and some of them are designed as interior.
'(2) Below Zero', '(2) Billy Middlewins', '(2) Bone Crusher', '(2) Dawn of Dune', '(2) Dustgarden', '(2) Enormous', '(2) Future Avenue', '(2) Grimdark', '(2) Honeypot', '(2) Kingsroad', '(2) Modern Wharfare', '(2) The Pointy End', '(2) A Quiet Mesa', '(2) Ravens Pass', '(2) Red Sun Lagoon', '(2) Rock of Egypt', '(2) Sandspring', '(2) Sekigahara', '(2) Simple', '(2) Snowpiercer', '(2) Spooky Waters', '(2) Tiger Bay', '(2) Tournament Spire', '(2) Underneath', '(2) Vector Valley', '(2) Victims', '(3) Devil's Triangle', '(3) Unjust Rising', '(4) Amazonas Chi', '(4) Amazonas Iota', '(4) Amazonas Theta', '(4) Ashes to Ashes', '(4) Baked Alaska', '(4) Billy Middletwins', '(4) Border Order', '(4) Canyon Defrost' '(4) Carville's Command', '(4) City Escape', '(4) Floral Fury', '(4) Don't Mock the Croc', '(4) Dusk Till Dawn', '(4) Dutch Highlands', '(4) Einstein's Fate', '(4) Enclosure', '(4) Fallen Empire', '(4) The Hypergate', '(4) An Icebox', '(4) In Limbo', '(4) Let Them Eat War', '(4) Modern Wharfare II', '(4) Metro Midway', '(4) Nitro-Fueled', '(4) Oil in the Center', '(4) Oingo Boingo', '(4) Pac-Man Maze', '(4) Quarter Pounder', '(4) Race Base', '(4) Ravens Ravine', '(4) Roundhouse Redux', '(4) Set on Destruction', '(4) Sierra Cleave', '(4) Snowmelt', '(4) Sole Summit', '(4) Southwest Cay', '(4) Stormy Weather II', '(4) Tournament Garden', '(4) Tournament Tower II', '(4) A Town Blitz', '(4) Twilight Heat', '(4) Zen Bazaar, '(4) Zen Cellar', '(5) Civic Hustling', '(5) Dangerous Days', '(5) Lake Wise', '(5) Quinary Barrage', '(5) Ripper', '(6) Angel Island', '(6) Bifold Retreat', '(6) Billy's Full House', '(6) The Bloodiest Feud', '(6) Bluff Reflection', '(6) Boiling Point', '(6) Crystal Moon Cake', '(6) Dante's Inferno', '(6) Desert Descent', '(6) Einstein's Gate', '(6) Eviction Notice', '(6) Gold Experience', '(6) In Spitting Distance', '(6) Krakenhaven', '(6) Living Death Girl', '(6) Lost Inside Redux', '(6) Quicksand', '(6) Replica', '(6) Rogue Nation', '(6) Shrouded Canyon', '(6) Six-Assist', '(6) Verity's Hold', '(6) Vulkan', (6) Whiplash', '(6) Shrouded City', '(6) Wildfire Steppes', '(8) A Dusty Mesa', '(8) Knockdown Mega', '(8) Octagony Mega', '(8) Permafrost Mega'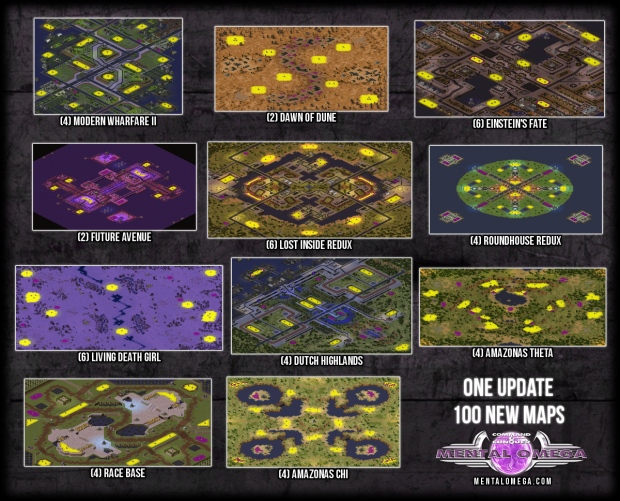 As always, for a complete list of authors of the big everything see our Credits page.



It's been a while since the last update, so there's a whole lot of changes to talk about. There are many new additions, bugfixes, quality-of-life changes, in addition to the balance of the game being heavily revamped, to the point that I suggest you head to the complete changelog right away. In this newspost I will only highlight some of them.
enhancements of the factions' arsenals include new additions such as: support powers Cryoshot, Cryospear, Black Widow Alpha, Elite Reserves, Regen Drugs, Wonder Drugs, Risen Monolith, Psychic Flash, Hijackers, Chaos Touch, Golden Wind, armory additions Warpnode, Ultra Dome, Cryomines, Hyperion, War Rig and units Siren Frigate, Mosquito Demoboat, Shock Trooper, Scourge, Ruiner, Hovracoon, Mobile Grinder, Orcinus Waveshaper, also including the completely redesigned Speeder Trike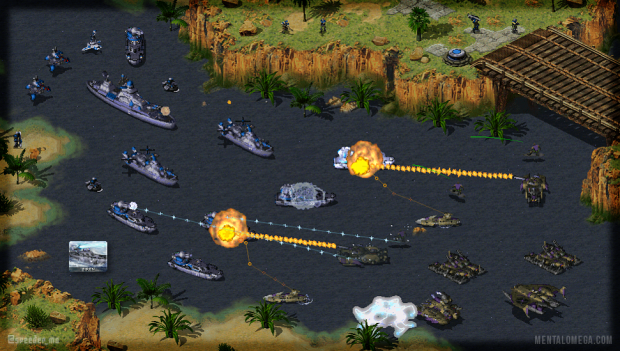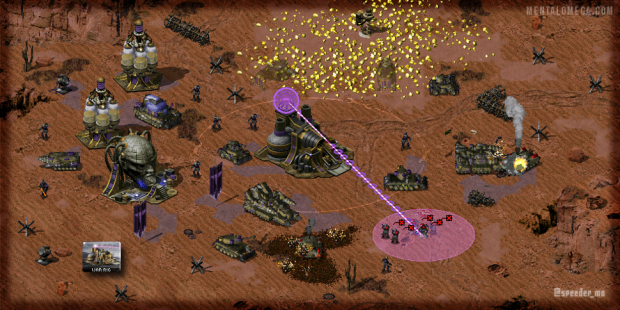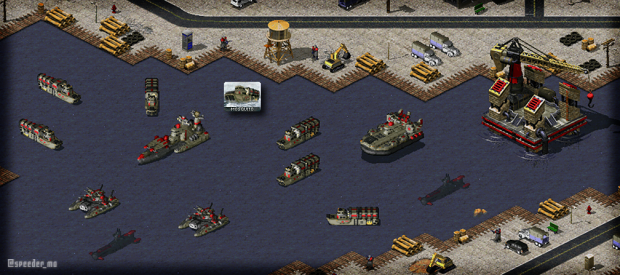 the red warning message telling you about the modified files between players and possible cheating has been fixed, so if you see one in multiplayer, do pay attention this time
another important fix: infantry with attacks on deploy, such as Epsilon Adepts or Libra, should no longer get randomly stuck when performing the attack, this will surely help you in missions
early game has been reworked; the vanilla factions receive a new building available after Barracks which unlocks some of the tech and new powers and some prerequisites have changed
the worth of harvestable gems has been decreased by 25%, meaning that the actual gold-to-gems value ratio has been changed from 1:2 to 2:3, still crucial, just not as crucial
Tech Secret Lab now always unlocks one very special unit returning from a previous version instead of doing a unit roulette - the new repair airship, Rejuvenator
a new tech building Tech Protector increases the strength of mechanical ground and naval units stationed around it by 50% in a large radius, but requires 50 power units to work
the new Superweapons dropdown allows you to choose to enable All, Minor or None of the superweapons in a skirmish/multiplayer match, replacing the old toggle
the new Tech Defenses dropdown allows you to choose between All, Bunkers or None of the capturable tech defenses to be placed on map automatically
the new Ore Growth dropdown allows you to adjust the growth and spread of the resources on the map, or even disable it completely if you feel like it
the new No Garrisons toggle allows you to disable all of the garrisons inside of the civilian structures, but not the neutral Tech ones or the Battle Bunkers
the new Global Soundtrack toggle allows you to enable the entirety of the standard Mental Omega ingame soundtrack regardless of the faction chosen, that's 69 themes
Part 2 of the Mental Omega Soundtrack will be released alongside the new update, featuring old and new mission-exclusive music
No Defenses is a new game mode, which completely disables and removes all defenses
No Rush is a new multiplayer game mode, in which no weapon will work for the first 10 minutes
Tournament 1v1/2v2 are new modes, which force a certain set of rules and could be used for future balance testing, possibly with experimental changes
the client will now inform you on startup if any of the required files from vanilla games are missing
all of the powered buildings now have an indicator whether they are online or not, usually a light
you can left-click on a cameo while holding the Shift key to queue creation of 5 objects at once
the client will now automatically delete all the debug log files from the game folder every 7 days
owning a Tech Missile Bunker or a Tech Refinery in a Short Game no longer keeps you alive
various additions to the map editor and terrain sets in the game have been included
icon display for friends and the ability to put users on an ignore list were fixed
you can now mark your status as always ready in multiplayer game lobbies
it is now possible to use and design interior maps in any of the theaters
you can now adjust the game speed in a singleplayer mission
new visual markers for objectives in missions were added
a new skirmish/multiplayer color has been added - Sky
Destructible Rocks, woah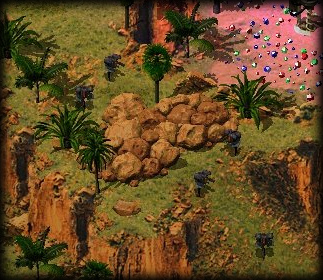 Again, you can see the complete list of new additions, changes and bugfixes under the following link: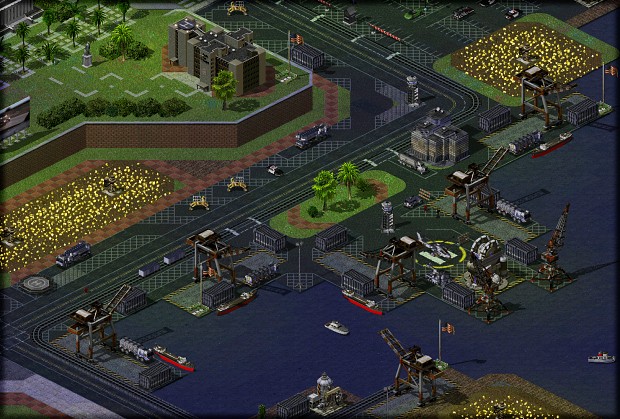 Expect this update to drop within the next few weeks. Once it's out, send us all the feedback at the usual places. The final missions will be released eventually, together, but that's all I can say for now.
Stay tuned and stay safe!

If you'd like to help develop Mental Omega, write an e-mail to mental.omega.apyr@gmail.com
We always welcome additional Voxel Artists, 3D, SHP & Animation Artists and Mission Designers.
Single contributions are also welcome and will speed up further potential development of the mod.





Posted on October 30, 2020 by Speeder - Comments: 4
Mental Omega News Bulletin #30 (13/06/2018)


As you might have heard or read, the original plan of mine for patch 3.3.4 for Mental Omega was to have it contain the conclusion of the Act Two storyline - the remaining 7 missions, the names of which you already know. After some thought and some recent developments, I've decided to switch the plans a bit and release new content to the players sooner, since I've known for a while that these final missions of Act Two would take more time and effort than usual to be completed, and a release earlier than in December would not be possible (and this date is not final either). As such, there's going to be an additional patch in Summer - the 3.3.4 update will become something different than I initially intended.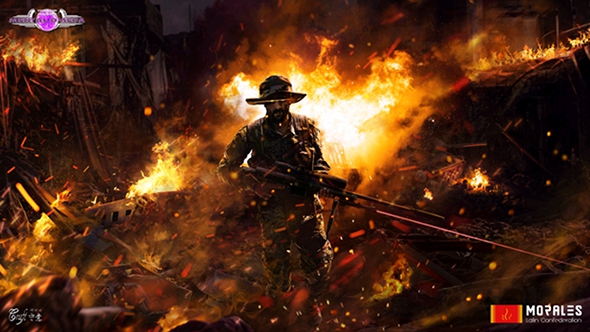 Thanks to the efforts of our mission designers, both veterans and newcomers, we've prepared 9 completely new singleplayer missions for this surprise update! They are as follows:
Allied Covert Op Mission Fullmetal
Allied Covert Op Mission Gridlock
Soviet Covert Op Mission Eclipse
Soviet Covert Op Mission Dawnbreaker
Soviet Covert Op Mission Brothers in Arms
Epsilon Covert Op Mission Taciturn
Epsilon Covert Op Mission Nightcrawler
Epsilon Covert Op Mission Survivors
Foehn Origins Mission The Great Beyond
The Great Beyond is the 2nd out of three additional missions for the Foehn Origins. Back when I first announced Nobody Home for Foehn, I intended for the Origins campaign to have 3 missions total, however, thanks to Esther and Ollerus, the final number of missions in it will be 6, with the last 2 missions to be released alongside the finales of Allied, Soviet and Epsilon campaigns.

While Covert Ops are mostly side stories, Dawnbreaker and Brothers in Arms are both part of the final Soviet story arc: the liberation of Russia from Yuri's hands. As the Soviet task force on the Moon is preparing for their counter attack, the forces that remained on Earth after Meltdown begin the grand operation ahead of them, preparing the grounds for the major siege of Moscow.

Eclipse is a Chinese mission which takes place during their invasion of Japan in Act One. Survivors shows what Malver has done after Obsidian Sands, while Nightcrawler does the same for Rahn. Taciturn takes place between Act One and Act Two and is about Yuri's forces chasing down a Chinese agent who has found out the big Russian secret. The Allied Covert Ops, Fullmetal and Gridlock show what challenges the other task forces from the Paradox Expedition had to face, while the Paradox Engine itself was moving towards Cape Town.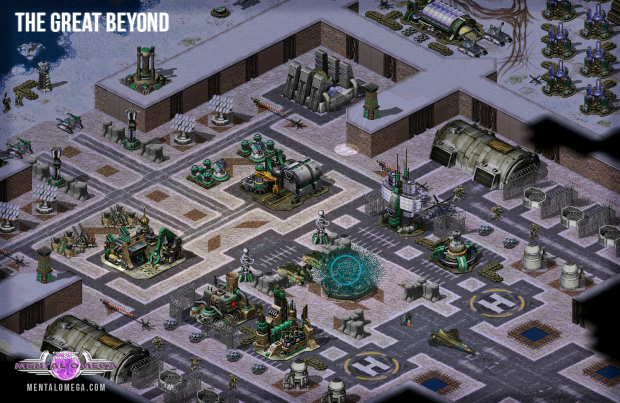 In addition to the new Foehn Origins mission and Covert Ops, another Challenge map will be added:
Firestorm Challenge against the Wings of Coronia armies with a Blasticade stronghold
As usual, new skirmish/multiplayer maps will also be available. They are as follows:
'(2) Closed Wide Open', '(2) Golden Spiral', '(2) Inferno Galore', '(3) Easter Island', '(4) Blood Feud Redux', '(4) Blue Hawaii', '(4) Dune Petrol', '(4) Double Shredder', '(4) Goldshire', '(4) Tetris', '(4) The Well', '(4) Woody Island', '(6) Avalanche', '(6) Black's Big Bluff', '(6) Death Stranded', '(6) Metallic Madness', '(6) Rorschach', '(6) Winter Desolation'
Out of the all planned bugfixes and changes, I believe the following are the most noteworthy:
'Free for All' can be chosen again as a game mode, it blocks the ability to make alliances before and during battle with no exceptions
the Built statistic has been added to the Statistics screen, which can now be completely cleared through a new button in the client
players can now choose a 'Random subfaction from a specific side' option in skirmish/multiplayer
Observers can now see a player's current production or money by clicking on their buildings
all amphibious transports are now immune to EMP weapons (but not freezing weapons)
several of Foehn infantry had their transport size reduced from 2 to 1 and can form IFV combos
Allied Co-Op map 'Low Rider' fully works again
You can see the complete list of upcoming new additions, proposed changes and bugfixes under the following link:


Send us all the feedback regarding the proposed changes for the new update at the usual places. Long live Command & Conquer!









The developer playthrough of Mental Omega campaign continues on our YouTube channel. Ahead of its release, you can already take a look at the Epsilon Covert Op Taciturn:






That's all for now, stay tuned for the 3.3.4 release and more news to come!




If you'd like to help develop Mental Omega further, write an e-mail to mental.omega.apyr@gmail.com
We always welcome additional Voxel Artists, 3D & SHP Artists, Mission Scripters and Voice Actors.
Single contributions are also welcome and will speed up the development of the mod.



Posted on June 13, 2018 by Speeder - Comments: 19
Mental Omega News Bulletin #29 (9/03/2018)


Finally, the newest patch for Mental Omega is here, and it is quite a milestone. The update 3.3.3, which includes Ares 1.0 by AlexB, marks the release, in which the save/load functions have been restored. Yes, you read that right - SAVE/LOAD FUNCTIONS ARE BACK IN MENTAL OMEGA. Additionally, since we've skipped Ares 0.E, we can mention that AlexB has also delivered another selection of improvements to Red Alert 2 Yuri's Revenge game engine. Like always, you can either use the Mental Omega Client to perform the update or download the files manually and extract them to your Mental Omega folder.

It's also worth mentioning again that our website supports two other languages, with language packs for the mod, which have been updated to work with update 3.3.3: Chinese and Russian.





So, if you didn't get it the first few times: update 3.3.3 fixes save/load, so if you've been stalling your quest through the Mental Omega campaign, waiting for this feature to come back, now is the time! In addition: a customized version of the FinalAlert2 map editor, which is compatible with Mental Omega 3.3, is included in this update and accessible through the mod's client.

If you are a Windows 10 user and you've been experiencing issues with Mental Omega multiplayer recently, this update should fix those issues for you. If that doesn't happen, let us know. Also, you might want to try the new renderer, DDrawCompat created by Narzoul - it might enhance your game performance, especially if you are using the aforementioned Windows 10.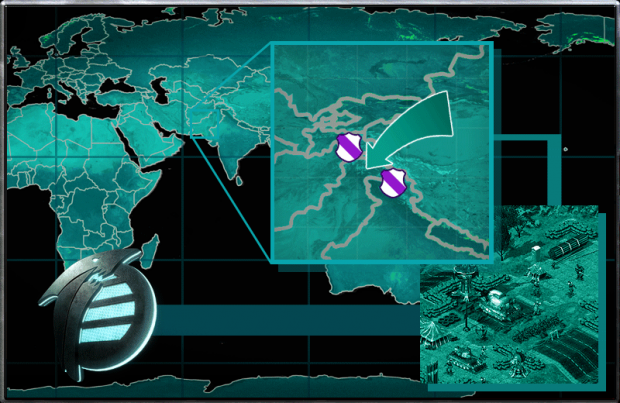 The 3.3.3 update comes with 11 new singleplayer and cooperative missions, steadily approaching the conclusion to Act Two of Mental Omega. It also marks the release of first 3 missions for the 4th faction, the Foehn Revolt. In the story, they take place after Machinehead.
Allied Act Two Mission Insomnia
Allied Covert Op Mission Obstinate
Soviet Act Two Mission Meltdown
Soviet Act Two Mission Earthrise
Epsilon Act Two Mission Machinehead
Epsilon Act Two Mission Unthinkable
Epsilon Covert Op Mission Blood Rage
Foehn Origin Mission Nobody Home
Foehn Origin Mission Kill the Messenger
Foehn Origin Mission Tainted Empire
Epsilon Co-Op Mission Metaphor (replaces Cornered)
The 3.3.3 update includes full mission briefings for all of the new missions, meaning that this time there are none without one.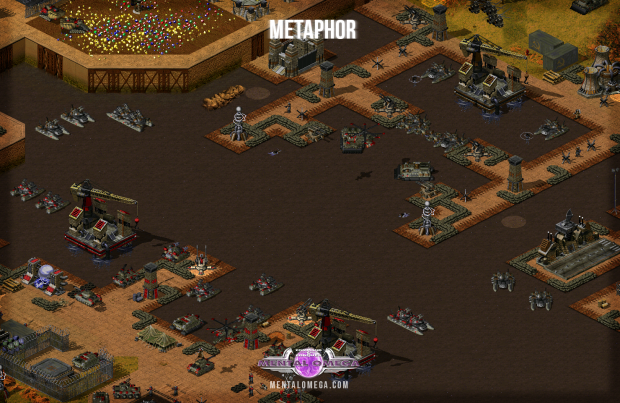 In addition to the new story-based maps, a new Challenge map has been added, with its own unique trait, and several previously released ones have been heavily revamped.
Heroslayer Challenge against the enemies with a powerful "army of clones"
Last, but not least, numerous new skirmish/multiplayer maps have been added. They are as follows:
'(2) Big Little Lake', '(2) Obsidian Knoll', '(2) Poisonous Milk', '(2) Route Sixty Six', '(3) Medusa', '(3) Don't Cross the Streams', '(4) Extra Small', '(4) BizarroGrid', '(4) Ivory Wastes', '(4) Mentalopolis', '(4) Not Without A Boat', '(4) Practice Yellow', '(4) Red Sun Canyon', '(4) Scorpion Trail', '(6) All the Fury', '(6) Alert Status Red', '(6) Ant Arctic', '(6) Blizzard Peaks', '(6) Cold Hard Crash', '(6) Frostburn', '(6) Paradise Warfare', '(8) Pacific Rim Mega', '(8) Tic Tac Toe'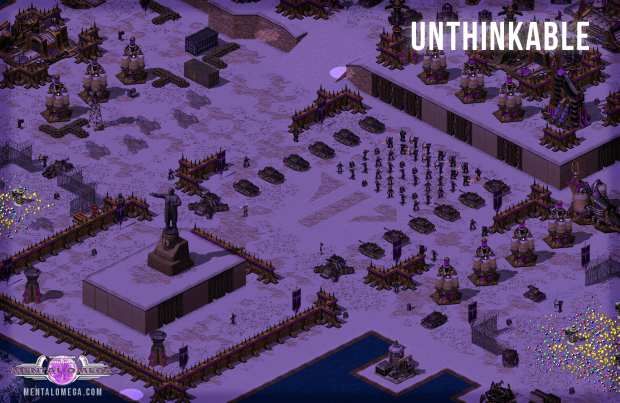 Just like the last time, let's now talk about important gameplay changes, balance tweaks and bugfixes in this patch.
a new unit has been introduced into the Foehn navy, the Whipray: it is an anti-aircraft drone ship with a confusion rifle and a 'Golden Rocket' launcher, which requires a Cloud Piercer to be built. With its introduction, the Swordfish loses its AA capabilities, but also gets a price decrease to compensate.




Foehn Whipray by Mevitar
you can now check the game host's ping in the CnCNet lobby
the AI has been heavily revamped, especially in the special game modes
when starting a match or mission, you should no longer spawn into the original game's main menu and crash
most of Co-Op maps have been updated to feature difficulty changes
new Statistics window in the client logs your skirmish/multiplayer battles
multiple new IFV modes have been added to the game, Mercury IFV mode has been removed, each hero now has a mode of its own
Experimental Warpshop build limit has been increased from 1 to 2
firepower of all capturable tech defenses increased by 10-20%
price of all T2 defense towers decreased from $1200 to $1000
cloaked objects no longer get uncloaked when hit with effects, which don't affect those objects
stat buffs are now applied to objects, which are under the effect of Iron Curtain/Force Shield, most of nerfs still are not
you will now be given a proper amount of starting cash in Epsilon Co-Op Backbitten
choosing United States in Contagion Challenge will no longer give your MCV to the enemy instantly
You can see the complete list of new additions, changes and bugfixes under the following link:



Send us all the feedback regarding the new update at the usual places.




The developer playthrough of Mental Omega campaign continues on our YouTube channel. Videos for each of the new missions, on Mental difficulty, will soon be available on it. Here's Nobody Home, the beginning of the Foehn Origins.


That's all for now, stay tuned for more news!




If you'd like to help develop Mental Omega further, write an e-mail to mental.omega.apyr@gmail.com
We always welcome additional Voxel Artists, 3D & SHP Artists, Mission Scripters and Voice Actors.
Single contributions are also welcome and will speed up the development of the mod.





Posted on March 9, 2018 by Speeder - Comments: 7
Mental Omega News Bulletin #22 (17/03/2016)
Silent but not inactive, we've been working on new features for the mod and have begun integration with the current version of CnCNet. More news on that later though, as today we'll dive into the latest additions to the arsenal in Mental Omega, including new Foehn equipment. I post more frequently on Twitter so follow me if you want to stay posted.

Oh, did you miss it? The new side's name is The Foehn Revolt. Why? You'll learn in the campaign.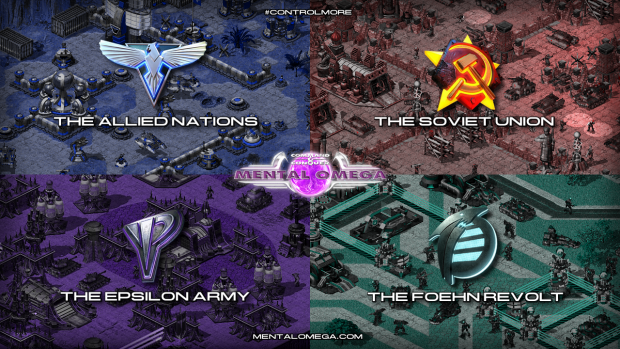 You might already know World Beyond if you searched for the full version of the music we used in the Side 4 Reveal Trailer, The Remnant. Vladimir Kuznetsov returns with yet another great piece of soundtrack, a tribute to the Command & Conquer: Red Alert series - The Last Line of Defence. This song will also appear as a part of Mental Omega's Foehn Soundtrack, who, just like the three original sides of the conflict, have their unique soundtracks in our mod. More songs will be revealed in time. Give other World Beyond tracks a listen in the meantime.


New stolen technology units. We have them.


The new stolen technology roster: 11 units to go.

"After losing the blueprints and prototypes of the Future Tank X-0 during the Okawa Falls incident, Kanegawa Industries continued their work on a fully automated battle tank in several locations around Japan which had not yet been stormed by the Chinese forces. However, even the remaining facilities were eventually forced to shut down, as the Soviets won the war and China took control of the remaining Seismic Stabilizers in the country. KI executives decided to cease mass production of the X-1 prototype and destroy all data related to the vehicle when they realized that the Pacific Front would not be able to defend their facilities, some of their generals even surrendering to the invaders.

It wasn't until many years later that the Future Tank Project was resurrected by the people who reactivated some of the now long forgotten Kanegawa Industries research facilities in Japan and completed the X-2 prototype using their advanced technology."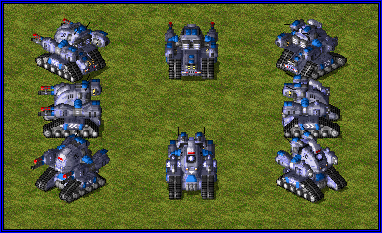 Allied Future Tank X-2 by ONE X

The new Future Tank X-2 is a slower but better armored version of the experimental fully automatic tank designed to destroy enemy battalions and resist mind control. Equipped with several advanced weapons, the tank is capable of dealing lots of damage to enemy vehicles be it a single target or multiple objects in an area. In-game, the new Future Tank is a vehicle the Allies can build after infiltrating one of Foehn's technology buildings and matches their firepower and heavy armor in combat.

Future Tank X-0 will no longer be available in skirmish, but will remain as mission unit.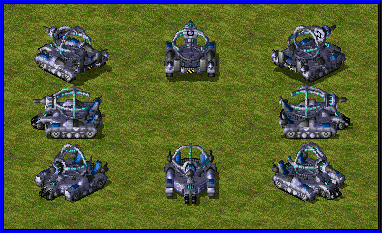 Allied Chrono Prison by cyanideT
Previously mentioned, but not presented, the Chrono Prison allows the Allies to combine their chrono technology with Yuri's mind control in order to create a vehicle which can capture and chronoshift enemy units at great ranges. If the unit is immune to the tricks of mind control, it'll simply be trapped inside the vehicle.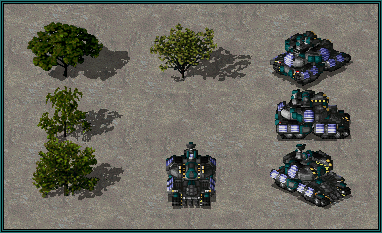 Foehn Phantasm MLRS by Moder.U
To Foehn, the Mirage is one of the technologies lost in the chaos that unfolded during the Battle for Antarctica. Upon finding an Allied Tech Center, chances are that the Clairvoyants will be able to recover this technology. Once that happens, the Phantasm MLRS can be built, a vehicle that fires a volley of powerful projectiles at enemy vehicles and aircraft alike. The Phantasm's other advantage over the Mirage Tank is that it can fire on the move thanks to its rotating turret.

To stray from the Stolen Tech additions, let's focus on the main arsenal additions. First, a familiar one.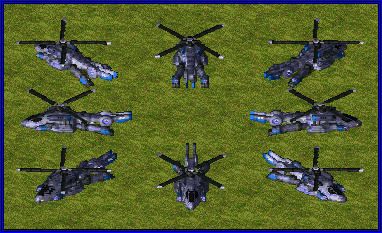 Allied Cryowhirlybird Cryocopter by ONE X
It should be noted first that with the introduction of this unit the role of Hummingbird has slightly changed. The high-tech jet available after constructing a Warpshop will now use its time manipulation devices to decrease the firepower and speed of enemy units in an area by 50% for a moderate while with a single instant strike. The Hummingbird is now also without a doubt the fastest aircraft to rely on air pads in the game.

While Red Alert 3 had its faults, I thought the introduction of the Cryocopter to the roster was an excellent idea and it remains one of my favorites. With all the new features that Ares adds it's become possible to somewhat emulate the freezing effect of the original Cryocopter from Red Alert 3. The longer its freezing beam fires the lower an object's armor and speed is until it freezes completely, making it immobile, unable to fire and also very, very fragile to attacks. Shrink ray not included, sorry.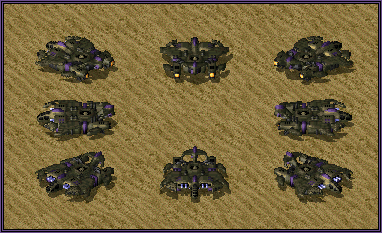 Epsilon Dybbuk-Evolver by Azri_Apoc
The Dybbuk-Evolver is the third type of the Dybbuk series in Yuri's Epsilon arsenal (the first being Gehenna's Interceptor and the other Attacker available from the Epsilon Aerodome). It is available to the Proselytes after both the Aerodome and a Cloning Vats has been constructed. The Evolver carries a payload with an experimental substance which will rapidly mutate dying soldiers into loyal Brutes, similar to Rahn's weapon, although at a smaller rate. The gas will also deal decent damage to vehicles and buildings alike, but its primary function is to eliminate large groups of enemy infantry. The Evolver is a bomber; it will not be able to out-range enemy anti-aircraft weapons so extreme caution is advised when relocating the unit, especially considering its high price and late game availability.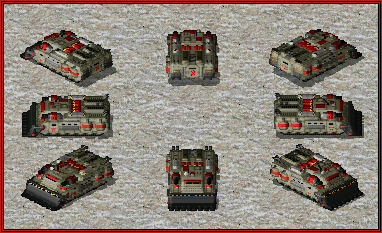 Chinese Armadillo by ONE X
Due to the lack of an artillery unit that can be mass produced, the Chinese get an additional fist to punch enemy defenses with - the Armadillo. This unit is a bigger and tougher version of the iconic Borillo, with literally double the firepower and additional space inside vehicle for more troops to suddenly deploy at the enemy gates.

Let's move on to the Foehn Revolt.

Foehn Windbelt by Bu7loos
Foehn's power plant is not an ordinary one. First of all, it is the smallest energy generator and also pulls double duty as the side's wall. When two Windbelt posts are placed in a line, they are connected with nanofiber cords that enhance their cooperation during energy production. Windbelt is a wind-based power plant that generates 100 units on its own, while each 'length' of its cord allows for a bonus 10 units, meaning that the longer the Windbelt connection, the more power is generated. The barrier created by two Windbelt posts can only be shut down with EMP/hacking weapons and will not go down if a Foehn base is low on power.

Another one of the Windbelt's unique features is that it can relocate in case you want to adjust your wall placement or want to barricade a different location. The Windbelt can relocate by switching into a mobile mode, during which it floats and can also travel over water. If a Spinblade is nearby, the Windbelt's speed is increased when in mobile form. The Windbelt has its drawbacks too: just like any other power plant it can be infiltrated by spies, which means that a smart base layout is needed to protect them from the spies due to its function as the side's wall. There are a few additional tricks Foehn can use to prevent spies from infiltrating their small power plants. You'll find that with all the Foehn's objects in their Armory, their base can become quite a maze.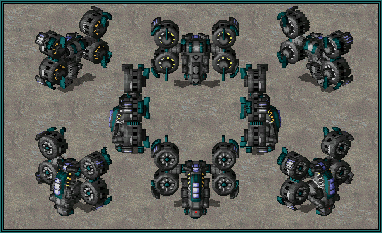 Wings of Coronia Alanqa Skystation by Moder.U
The Alanqa Skystation is the flying guardian of the Coronia. It is for the most part their dedicated Tier 3 anti-aircraft unit, using high power turbines to manipulate the flow of air nearby. With four of its specially designed generators it can take down enemy aircraft and even the levitating units of Epsilon in a matter of seconds. The Alanqa is not defenseless against ground targets either, this machine can use its engines to create powerful tornadoes which will sweep enemy infantry away with ease and deal solid damage to vehicles. While a single Alanqa is not very effective versus heavily armored military buildings, an entire division of them might be enough to demolish whole bases. However, taking on enemy anti-aircraft units might be a challenge due to the Skystations fragile turbines and light armor.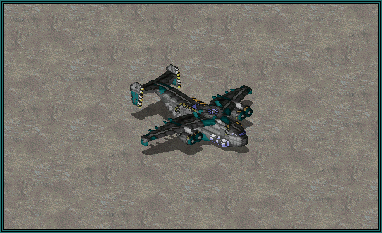 Wings of Coronia Harbinger by mevitar (Watch video)
"The Harbinger's legend began during the days when it was just a project in the research facilities of Kanegawa Industries. Before the Chinese attacked, research on particle collision-based weaponry was well underway and the weapon itself was supposed to give the Pacific Front the ultimate advantage over their enemies and perhaps even the ace up their sleeve during the Allied leadership negotiations. After most KI facilities fell into Chinese hands so did the project and laboratories where the tech was being developed. However, due to unforeseen circumstances, the weapon wasn't finished by the Chinese either."

The Harbinger is the Wings of Coronia's powerful flying fortress, using its particle colliders to level enemy bases with ease and eliminate enemy units of any type, be it on the ground, water or in the sky. The Harbinger can be summoned onto the battlefield to bombard an area through a support power after an expansion for the Cloud Piercer has been built.

Now, as one would expect, Foehn will have its own navy. Here are some of their naval units.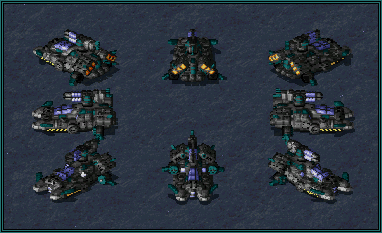 Foehn Swordfish by Moder.U

The Swordfish is Foehn's basic naval unit, the equivalent of the Destroyer, Typhoon and Piranha. While its basic speed is comparable with that of the Destroyer's, the Swordfish has engines similar to those of the Jackal and Sweeper, which allows it to gain speed boosts when near a Spinblade. Their basic weapon is a high-tech cannon, effective against armored units and buildings. The Swordfish does not deal much damage to infantry which is why it should be supported with other units like Jackal Racers when engaging amphibious troops.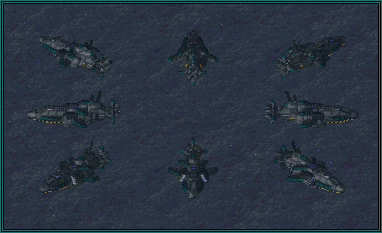 Foehn Angelshark by Zero18

The Angelshark becomes available when both the Shipyard and a Cyberkernel are constructed. This unit relies on Foehn's confusion technology to cause havoc among the enemy forces. When enemies are struck by the Angelshark's drone in torpedo mode, there's a high chance they will start firing at their own allies. Unlike the discarded chaos gas, confusion weaponry does not increase the rate of fire of affected units. The Angelshark can also deploy its drone in a mine form. The mine will remain in the area for a short time and apply the same confusion effect to all units that come near it.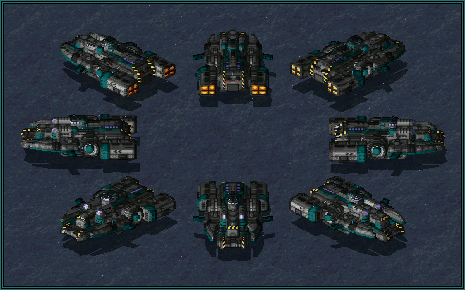 Foehn Warturtle Transport by Moder.U
The Warturtle is Foehn's amphibious transport. It has 12 passenger slots which can be used by units and soldiers of various size. The Warturtle's special ability is that it also can make use of Spinblades to increase its speed, making it the fastest amphibious transport in the game. Its normal speed is comparable with the Voyager's and Zubr's.

During a "designer's block", Alstar and I kept testing Act One Cooperative missions, recorded them and uploaded them to our YouTube channel as always. After we complete and confirm that all of the missions are still working, I'll be returning to work on fixing and finishing Act Two. I'll also upload some footage, maybe even a complete playthrough of 13th missions.
Here's a Yuri Co-Op: Brain Reset, explaining how the Soviets lost the mind control tech. You can view gameplay from the rest of the co-ops here.

Big thanks to the many people making this project's further evolution a possibility!
Stay tuned for more updates.


If you'd like to help develop Mental Omega further, write an e-mail to mental.omega.apyr@gmail.com
We always welcome additional Voxel Artists, 3D Artists, Mission Scripters and Voice Actors.
Single contributions are also welcome.




Posted on March 16, 2016 by Speeder - Comments: 7
Mental Omega News Bulletin #16 (15/06/2015)
Volume 5 of the Twisted Insurrection Soundtrack grows larger with the latest additions from various artists. I've recently finished work on my newest track called "Nod Thrash". It is a heavy-stomper which I think works well when you are sending your troops into battle against the GDI dogs. More (hopefully) to come! This marks my 5th creation for Twisted Insurrection, if you'd like to listen to the rest you should check this playlist out.
 

What's this? The Russians and the Chinese are setting their differences aside?
The Russian and Chinese leaders sit down at the table to discuss their plans for the world. Once enemies, now side by side, intend to stop Yuri's invasion at all costs. What will the end result be? You'll have to wait and see how the negotiations end, however the wait but not go as uninterrupted as you'd think.. Make sure your outpost is operational and ready for combat when the time comes.
 
Operation: Juggernaut is yet another display of Sandman's advanced skills in creating highly detailed environments in Red Alert 2 Yuri's Revenge and complicated scripts which result in interesting missions with many surprises for the player. Take a look at the pictures above and see how pretty Singapore looks in Mental Omega. Yeah, yeah, Singapore by Red Alert 2 "city accuracy standards".

We revealed the Epsilon Aerodome some time ago, now it's time to reveal the first aircraft to go with it. After some thought, I've decided to give the Epsilon a "series" of aircraft, much like Orca was the primary "brand" of the GDI aircraft in the classic Command & Conquer games from the Tiberian saga. With the already existing Dybbuk-Interceptor deployed from the PsiCorps' Gehenna Platform, now comes the Dybbuk-Attacker which is the Epsilon anti-armor attack jet. Compared to the standard Allied and Soviet jets, this one comes with an interesting gimmick that might just place it above the rest - it has infinite ammo - the ARO projectile.
 
There will be at least one more aircraft in the "Dybbuk" series to appear in the future.

A bit short today, since I have to script Operation: Meltdown and start preparing for the grand reveal of.. something. See you next time when things become.. grand.

If you'd like to help develop Mental Omega further, write an e-mail to mental.omega.apyr@gmail.com
Right now we're in need of additional Voxel Artists, 3D Artists, Mission Scripters and Voice Actors.
Single contributions are welcome. 



Posted on June 14, 2015 by Speeder - Comments: 13
Mental Omega News Bulletin #15 (8/06/15) - We're back!
You thought the mod was over? Well, you thought wrong. Apologies for the silence, but now we're back with another news bulletin and more news to come. First of all, a quick status update which should answer some of the inevitable questions regarding current state of the mod.
 
CnCNet5 Online Support: Not there yet
Ares with Save/Load Function: Not there yet
Act Two Campaign: 22/36 (61%)
Side Project: Internal Beta Soon (56%)
 
The plan is to release the next version to the public once there is full support for CnCNet5 online services and a working save/load function because I can't imagine there'd be many willing to go through our rather difficult 72-mission long campaign without a function to save your progress. If you want to see the working save/load function sooner than later, you should definitely give your support and appreciation to AlexB, who is currently the only person working on Ares Expansion DLL and is making all the fantastic features that are yet to come with the next version of Mental Omega. If you are a modder and you are already using Ares, the more feedback you send the better.
 
What can you do to support Mental Omega itself? You can either contribute or spread the word about the mod. There are many Red Alert 2 players still returning to the game who are unaware of Mental Omega for obvious reasons - we have little to no advertising power and the word is spread mainly thanks to our fans. Link others to our website, to our YouTube channel, show them the mod and that there is finally a campaign for Yuri which so many people missed in Yuri's Revenge.
Your word keeps our project alive.
 

You'd think there's been plenty of new features designed throughout the weeks we skipped the news bulletins. You'd be correct, but this is just a portion of those features. Let's start with a trivia: the current artwork for the Chinese Science Lab has been a subject of debate in the modding community ever since the pre-release screenshots of Red Alert 2 have been released. That particular building artwork was seen on the Soviet side in the infamous promotional picture, however it's been considered by many to be the pre-release artwork for the final Allied Battle Lab due to many similarities in its design. According to the same people, it did not fit the Soviet architecture too well.
 
I've been a fan of this design ever since version 1.0 of Mental Omega where this structure has also appeared as the Soviet Lab. In the first beta revision of 3.0 it has been used as the Chinese Science Lab, a high tech building unique to one Soviet subfaction that went well with the other two. However after much thought I've given the subject, we've decided to replace it in the next version. The new design fits its subfaction's theme better and has been given an additional bonus to go with it. Here's the Atomheart, created by Nooze.
 
The Atomheart gives the Chinese player access to the advanced nuclear and EMP technologies, but also two new Chinese support powers - the Wallbuster, a missile designed specifically to destroy enemy walls and defenses, and Irradiation which, when used on your vehicles, will generate a radiation effect similar to the one the Eradicator has around himself constantly. Contrary to the other two Soviet laboratory buildings, the Atomheart consumes little power as it is able to fulfill most of its requirements with a reactor of its own.

Out goes the Cryofield, in goes the Hummingbird. Now listen carefully and listen well, because this aircraft can slow down time. After you construct the Airforce Command HQ and the Experimental Warpshop, you'll get access to this new advanced aircraft. 
 
The Hummingbird is a unit designed for support of all Allied subfactions. It is capable of creating a field in which units will move slower, making them more vulnerable to enemy attacks and unable to escape from other jets like the Stormchild or Harrier. The slowest units will suffer from this debuff attack the most. The artwork for this jet was created by Moder.U and the unit has been voiced by Seoras.
 

Rahn makes his first appearance in the mission with a very subtle codename..
Operation: Huehuecoyotl
Even though Yuri's Proselytes have successfully infiltrated the Russian network and eliminated traces of Yuri's prototypes and technology schematics, the Latin Confederation is still in possession of 4 Cloning Vats in Spain, now occupied by their forces shortly before the final attack on the Gladius Defense System. Your objective is to infiltrate the Cloning Vats network and infect them with a genetic virus that will turn the tide against the Confederation's forces in Europe. From the dust will emerge a super soldier who will help Yuri destroy the Soviet dominion in the eastern part of the continent. The mission comes from lovalmidas, most famous for the Singularity mission in Act One.

The Latin Confederation is quick to react to Yuri's attacks around the world. Yuri is targeting and eliminating many important people in command or working for the Soviet armies, one of them being Colonel José Arcadio Morales who has infiltrated Brazil to acquire important intel on Yuri's movements. His extraction from Rio de Janeiro is an important task for the Soviet Commander in Act Two.
 
Operation: Exist to Exit
Yuri's forces are quick to establish two outposts around Morales' location in the city, shortly after the Soviets deploy their forces. Morales must be protected until it is possible to extract him and the important information on Yuri's plans that he carries.
 


Map Preview #43: (4) Vanilla Ice Cream (snow; "Islands" map pool) by Speeder
Map Preview #44: (4) Libra's Playground (desert; standard map pool) by Toveena
Map Preview #45: (6) Malver's Sandbox (desert; standard map pool) by Toveena
So there it is, Libra gets her own playground and Malver gets a box of sand. At least there's some vanilla ice cream to sweeten things up. In all seriousness though, these are some of the recent additions to the Mental Omega map pool, which is now dangerously close to hitting the 400 maps mark. While we're not showing all of the new additions, only the ones unique to the mod, I can definitely tell you there are plenty of battlefields to choose from. Every map will have their own unique characteristics and they'll all be available in the next release.

"(4) Vanilla Ice Cream" is a new map for the "Island" game mode on which each of the teams gets unique bonuses for their bases. There are two ore fields, a gem field, and bonus defenses for each player, but only two have the gems as their first resource. A Missile Bunker and the last ore field are on a separate island. With a Tech Base Expansion Post near the Bunker, it might be easier to defend it against attacks from the air. The Concrete Fortresses will make it more difficult to deploy amphibious and ground units nearby.

"(4) Libra's Playground" is a map designed for 2v2 team games in which each of the players has its own role to play. The lakes next to the bases don't allow naval combat, but the use of amphibious units might prove very useful to gain an advantage over your enemies. A desolate Tech Academy awaits in the center and will provide veteran training for all the infantry of the player who captures it. There are plenty of gems in the middle, so it might be a good idea to expand quickly.

"(6) Malver's Sandbox" is an island where Malver used to lurk when he was seeking isolation. This isolation was violently disturbed when 6 armies deployed their forces here. You'll have an important decision to make regarding the time going towards the gem fields on the sides near the Tech Base Expansion Posts. The 6 Oil Derricks out in the open will require special attention as they could be the first to go down when your enemies attack and resources are scarce.
 

We are still looking for someone experienced with UVW maps and texturing 3D models who can help with finishing the work on a set of new buildings within the aesthetic style of the game. We already have plenty of finished models to work with, be it in 3DS Max or Blender.

For more information write an e-mail to mental.omega.apyr@gmail.com
We are also looking for additional Voice Actors for new units and missions as well as Red Alert 2/Yuri's Revenge Mission Scripters to help with the ambitious campaign project we are working on as a part of Mental Omega. Singular contributions are also welcome. Use the e-mail address listed above.
 



Posted on June 8, 2015 by Speeder - Comments: 12