Mental Omega News Bulletin #24 (2/06/2016)
This time we're keeping it short and sweet while we finish up details on the vanilla sides and almost approach the end of designing first batch of Foehn features.

I've recorded several videos recently, one promo which features all of Mental Omega Superweapons and three AI-only skirmish matches which involved all of the vanilla sides' subfactions in Mental Omega. Thanks to recent developments it is possible for me to become an observer of an AI-only game and with proper Mental AI Boosts an absolute mayhem has taken place. AI-only skirmishes are completely different than human ones, they're highly explosive and full of units and constant action, at least as soon as the War Factories are placed.




All Yuri's Epsilon subfactions & Confederation on '(4) Eternal Alliance'





All Soviet subfactions & Euro Alliance on '(4) Double Patrol'





All Allied subfactions on '(3) Mystery Town'




There are some new features, changes and details we haven't shown before in these videos. What needs to be addressed first, is that the economy booster buildings in Mental Omega (Ore Purifier, Industrial Plant and Cloning Vats) all function as a single Oil Derrick, which is a thing that was introduced back in the 2013 release. The only difference now is that thanks to Ares DLL the money those buildings provide is visually presented in the form of small animation. Foehn's economy booster building will have its unique function but also act as a single Oil Derrick as well.
Side-specific updates include the following:

THE ALLIED NATIONS
The Allied subfactions receive a unique Tier 3 infantry each. USA gets the Riot Trooper, Euro Alliance gets its Sniper back in skirmish and Pacific Front receives a redesigned Suppressor with new looks by Holy_Master who uses experimental chrono technology to reverse the damage of enemy units.
The Allied Cryocopter in action with its abilities to freeze and immobilize moving objects while also heavily decreasing the durability of any object under its influence. This freezing effect is not instant, it requires time to fully take effect and the size of its visual changes depending on the size of the target.
The Allied Hummingbird requires an Experimental Warpshop to be built and unlike Cryocopter, its effects are quick and instant. It is the fastest jet in the game and its time warp weapon, which halves both speed and firepower will affect all targets in a selected area, instead of a single object. It does not work against buildings though.
The Euro Alliance Coordnode, mentioned before, replaces the old Comet Fence and will increase firepower of defenses nearby by 10%.
The Pacific Front gets a new support power called Hunter-Seeker which essentially works like the GDI one in Tiberian Sun. If you construct 5 Robot Ops Control Centers, you can fire 5 Hunter Seekers at once for the same price. It is the maximum amount of H-S drones that you can release.
The Black Widow support power, available from the Tech Center, will release an unmanned stealth aircraft which will send jamming signals that decrease the effectiveness of enemy defenses and disrupts the signal of anti-aircraft defenses, making your aircraft nearby resist more damage, as shown by the small green circles around them. With a very strong armor, the Black Widow will also be able to tank in plenty of anti-aircraft fire before it is redirected at your other aircraft.
The Robot Tank will now use lasers against its targets, making it an early anti-infantry weapon on par with Terror Drones and Stingers.
New design for the Pacific Front's basic tank Kappa. Its strength & speed stats have been "swapped", it is now lighter but just as fast as the Robot Tanks and Tsurugis.
The redesigned USA Basswave becomes a Red Alert 3-styled Athena Cannon which connects to the Mercury Satellite to coordinate powerful orbital laser strikes with a short pre-delay. When a Mercury Strike support power is used nearby your Athena Cannons, it becomes easier to recalibrate the orbital weapon, which increases the unit's firepower for a short period of time.
As a sidenote, the Battle Fortress, being a unit of Pacific Front will lose its scottish accent.
THE SOVIET UNION
All Soviet subfactions receive a Tier 3 jet which can release smoke screen over its enemies, called the Dustdevil. The smoke screen will decrease the enemy accuracy, which will result in less damage being dealt to your units. The Latin Confederation still keeps its unique Smoke Bombs support power, the duration of which is much longer.
The Latin Confederation's new Fury Drone can be deployed to dig into the ground and become unseen to the enemies. When an enemy approaches, it will launch itself at it and explode violently, dealing plenty of damage to the target and anything nearby. It does not replace the Terror Drone.
The Latin Confederation also receives the Arsonist, which is a Tier 3 infiltrator who can set enemy buildings on fire and disguise as the enemy soldiers.
The Fury Drone and the Arsonist replace Latin Confederation's unique Drakuv and Hijacker. The Hijacker is no longer a Soviet unit, while the Drakuv becomes available to all Soviet subfactions. It is accessible through a support power that can only be accessed when both Field Bureau and a lab has been built.
Updated Drakuv Prison Vehicle can abduct enemy troops which have been wounded in battle and escort them to the Field Bureau. If the player sends them to the Field Bureau, he will get the ability to train the imprisoned soldier type. However, if a Spy infiltrates the Field Bureau, access to that technology will be lost.
The Saboteur's radiation field created upon his explosion has been removed to reduce its effectiveness in killing Dogs & Spooks.
China receives a new support power called the Wallbuster, which is an earthquake-generating missile fired from their unique laboratory, the Atomheart. The Wallbuster is extremely effective against enemy defenses and will destroy any walls it touches.
All Soviet subfactions receive the Iron Guard which is a small Iron Curtain that turns all vehicles nearby invulnerable with short delays where these units are suspectible to damage. Only two of these can be built at once, after you construct the Iron Curtain itself.
?

THE EPSILON ARMY
The Epsilon Dog is replaced with the Spook, a terrifying creature which.. does everything a man's best friend can do.
The Epsilon Aerodome gives access to two jets, one of them being the Dybbuk-Attacker, which can continuously fire its A.R.O. projectiles at ground targets, however no longer without an ammo limit. It is a very fast jet which is effective against enemy armor. The other one, is a high tech Dybbuk-Evolver available after a Cloning Vats is built. It drops a series of bombs filled with gas, the particles of which trigger a mutation reaction on the soldiers killed in battle. It is also relatively effective against all other targets.
With the chaos gas tech for Epsilon no more, the Weaver has been repurposed into the Bloatick, which is a walking poisonous bomb, quite effective against all sorts of targets, especially in large groups. The Scorpion Cell's Molebomb support power has been replaced with the Bloatick Trap which deploys several of those anywhere on the battlefield.
A new support power for the PsiCorps, the Magnetic Beam is a weapon fired from.. the sky, I guess, which will trap and slow down all metallic units. It is active for a short period of time and can be moved around the battlefield just like any other unit, in a similar fashion to C&C Generals Particle Cannon.
Virus is no longer a stolen tech unit and is available to all Epsilon subfactions after they construct the Cloning Vats.
The Stalker loses its immobilizer weapon. It is replaced with a special projectile that upon firing at enemy infantry, will heal your troops around that specific soldier, which is especially effective when Brutes, Bloaticks or any other short range infantry is involved in the battle. The infantry immobilizer tech became a Foehn weapon.
The Invaders can now shut down the power plants again, however they will only be able to shut down a single power instead of the entire base power grid. Nuclear Reactor users beware!
Not exactly shown in these videos I think, Headquarters receive a new Tier 3 stealth mine, the Genomine which releases the mutating gas upon exploding.
Headquarters also receive a mobile stealth generator in the form of the Hazequad. Just like the Chimera Core, it can only turn units & infantry invisible.
The Rage Inductor support superweapon has been modified and will no longer kill your infantry. Instead, it will heal them rapidly and will work on a larger area.
Please keep in mind that, as usual, everything is a subject to change.



And here's the aforementioned Superweapons video, which includes Foehn's Blasticade and the Great Tempest. Nanofiber Sync and Harbinger are not superweapons, but they're shown here as well.







If you'd like to help develop Mental Omega further, write an e-mail to mental.omega.apyr@gmail.com
We always welcome additional Voxel Artists, 3D & SHP Artists, Mission Scripters and Voice Actors.
Single contributions are also welcome and will speed up the development of the mod.



Posted on June 2, 2016 by - Comments: 21
Mental Omega News Bulletin #23 (27/04/2016)
First of all, I post more smaller Mental Omega updates frequently on Twitter so follow me if you're interested in that. Now, turn up that Chaotic Impulse by Black Ice 9 and begin reading the new Mental Omega News Bulletin. It's gonna be a long ride.



The underusage of fighter jets and bombers in vanilla Red Alert 2 and Yuri's Revenge was something many modders could not leave without changing so over the years you saw many aircraft and airfields created for the Soviets and Yuri in various mods. Mental Omega expands the array of buildable aircraft for all three original sides as well. While the 2013 release did not include the airpads for Soviets and Yuri's side, the next version will. The addition of new jets is not limited to the standard tech trees however, as the Allies will now be able to steal the technology which is required for the construction of the Lionheart Bomber from the Soviets.


The new stolen technology roster: 10 units to go.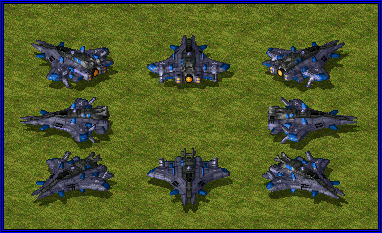 Allied Lionheart Bomber by ONE X

The Lionheart is designed to destroy large groups of Soviet tank divisions with an experimental payload. The bomb which is dropped from this unit will additionally induce EMP effects to all vehicles that survive, immobilizing them for quite a long time and rendering them vulnerable to enemy attacks. The Lionheart can perform a single strike before it has to go back to the airfield and reload, and thanks to Ares DLL it will take as long to reload this one bomb as it takes a Harrier or Black Eagle to reload both of its projectiles. The weapon is also effective against infantry but will not deal much damage to structures. As is the case with most of the jets, it should avoid anti-aircraft fire as its armor cannot take a lot of punishment.

This is the only mechlunit for today.
We'll now focus on the Foehn Infantry, which is trained at their Barracks.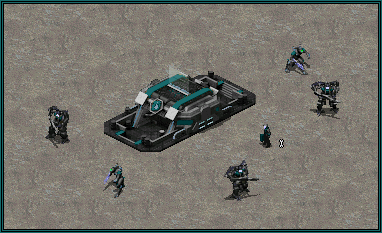 Foehn Barracks by Nooze
The Foehn Barracks is one of the most recognizable buildings you'll see in a classic Command & Conquer faction tree: it allows you to train infantry. There is a little twist to these however, as they are larger and more expensive. Advanced technology is required to create the weapons and power suits Foehn troops need in this building, the major part of which is already hidden underground. These Barracks can train and equip powerful solders, which outclass the other basic troops in one-on-one combat. However, the Foehn Revolt is limited in numbers. Their vehicles and troops are expensive to get and it is noticeable from the very start of a battle. There will be no large armies - only specialized strike forces and important decisions to make on how to manage them.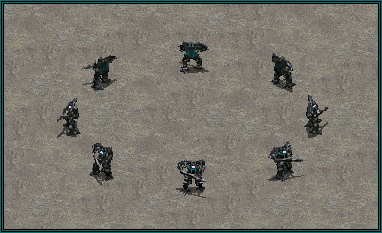 Foehn Knightframe by ImP_RuLz
The Knightframe is Foehn's basic anti-infantry.. infantry. The large exoskeleton which these troops are equipped with enhances performance and survivability in battle and also helps carry the large next-gen machine gun which can not only mow down enemy soldiers and light vehicles, but target flying objects as well. The Knightframe is both the basic anti-infantry soldier as well as the anti-aircraft weapon of the Foehn Revolt. The size of the exoskeleton makes it impossible for normal-sized tanks to crush him.

Do not be fooled by the exoskeleton's size - the Knightframe has no issues with adjusting its construction accordingly to the environment it needs to reside in. The Knightframe can garrison various structures just like the G.I., Conscript, or Initiate and fire from within the building. However, it will not be able to fire at aircraft when inside a building.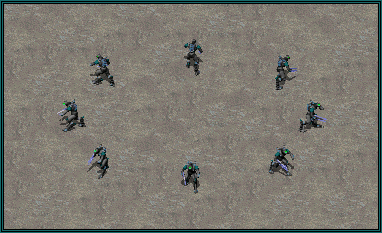 Foehn Lancer by IceDragon
The Lancers are soldiers who decided to go one step further than Knightframes and become one with the machine to further enhance their combat abilities. These soldiers use cybernetically augmented legs to outrun most of the troopers on the battlefield and keep up with vehicles, which are their primary targets. The Lancers' short range sonic weapons combined with their high durability results in a force to be reckoned with or even outright avoided when anti-infantry weapons are scarce. The sonic projectile will pierce through multiple targets and even rebound from the physical objects to deal additional damage to nearby units before it disperses. A Lancer's body cannot be crushed by ordinary units, which means that taking them head-on might be a mistake. Whatever is left of the Proselytes, the few still in power remember to keep their tanks at a distance when a Lancer team closes in.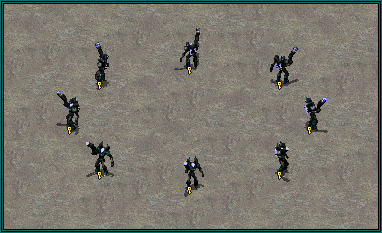 Foehn Huntress by 4SG
The Huntress is the most important member of every solid Foehn infantry strike force. The reason for that is her weapon: her gun is a small high-tech nanoids container, which upon the Huntress' command is opened and the nanoids inside are released towards the target. The nanoids have a very specific mission: to devour any infantry in their way and keep whatever materials could be reused for Foehn's purpose.

There are several characteristics that are shared by all Foehn infantry and this is one of them: the advanced suits worn by their troopers are compatible with the nanoids released by the Huntress. After "consuming" an object, these nanoids will be able to repair damages and heal the wounds of Foehn infantry nearby for a short while. Once an enemy infantry is eliminated by Huntress' nanoids, a temporary nanocloud is created in which all of your troops will be healed/repaired with the salvaged materials. Foehn units can receive many benefits from active battles and this is one of the most important ones.

In desperate times, a Huntress can direct her nanoids at friendly infantry to achieve similar results. This is extremely questionable however when the amount of troops at Foehn's command are so limited.

While the Huntress has no anti-unit weapons, she can use her nanoids to take out the pilots of enemy tanks at close ranges and take control of said vehicle in a similar fashion to the Hijackers. Once a hijacked vehicle is destroyed, there's a high chance she'll survive and be able to steal another vehicle.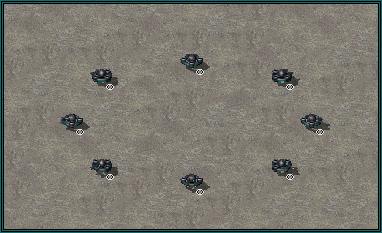 Foehn Clairvoyant by Starkku
The Clairvoyant is the Foehn's infiltration unit. It does not disguise, however it is much cheaper than an ordinary spy and has the ability to traverse through water. With the use of Spinblades its speed can be vastly boosted, which is useful especially during the infiltration attempts. The low price changes the way Foehn acquires enemy tech. Waves of drones are used to swarm important enemy buildings. Due to its mechanical construction, Dogs and Spooks are unable to deal damage to it.

Additionally, the Clairvoyants will be able to react to disguised spies and stealth units which belong to the enemy. They have a short range immobilizer which will stun enemy spies and keep them in place for as long as a Clairvoyant keeps firing at it, making it a clear target for you to eliminate. Inside a Jackal Racer the Clairvoyant receives a large range boost.

But!

This is not all there is to it! If you use this building's special power on any of the infantry above, you'll be able to control MOre. This is the Nanofiber Loom, a crucial building in the Foehn tech tree.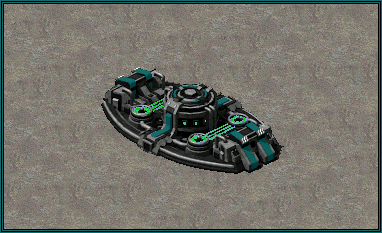 Foehn Nanofiber Loom by IvanXYZ & Nooze
Once a Nanofiber Loom is placed on the battlefield it will begin preparing the Nanofiber Sync support power, which can transform Foehn infantry and give them new abilities. With the infusion of nanofibers from the Loom, weapons and even entire powersuits of Foehn troops will be heavily modified, providing the commanders with additional strategic choices during the battle.

As a support power that needs to recharge, costs plenty and has a limited radius (although it can be fired anywhere on the battlefield), the Nanofiber Sync is a powerful tool which puts an emphasis on decision making as the new weapons you can achieve with this power are very effective but limited in numbers. Quite often the transformation into the alternate forms also sacrifices a feature that the normal version of the trooper has. Here are the second forms of the soldiers presented earlier.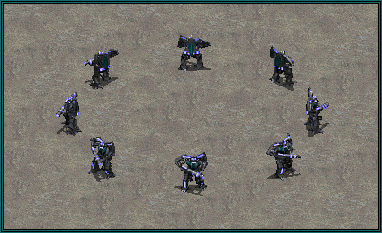 Knightframe turns into Foehn Kingsframe by Starkku
Once a Knightframe armor is infused with the additional nanofibers it becomes the Kingsframe. While no longer able to target aircraft or garrison buildings due to the sheer size, the Kingsframe obtains an imploder cannon which deals great damage to enemy structure and infantry in a small radius. Enough Kingsframes will level any base quickly and with little resistance. The nanofibers make the exoskeleton even more durable, making it immune to crushing by any object, including the omnicrushers.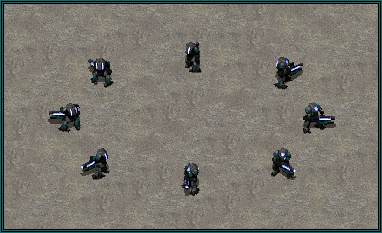 Lancer turns into Foehn Railguneer by Starkku
The Lancer's weakness is its short range, but its advantages include high speed and decent effectiveness against enemy structures in the early game. However, to counter the longer range anti-infantry units a personal plasma railgun has been designed, similar to the ones used by the Mastodon but with a significant firepower decrease to reduce the time required to charge the weapon. After using the Nanofiber Sync on Lancers, a Railguneer is created. This soldier trades speed for the heavier railgun with a long range and an additional armor around its cybernetic body. In a similar fashion to the Kingsframe, this power suit becomes immune to omnicrush and can no longer garrison structures.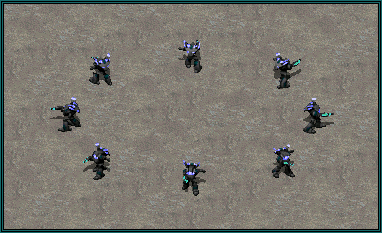 Huntress turns into Foehn Deviatress by Starkku
While the Irritator is not available to all Foehn subfactions, the weapon casually referred to by their soldiers as the "confusion ray" can be accessed by each one of them through the use of Nanofiber Sync on the Huntress. The Deviatress' sole purpose is to bring enemy forces into disarray with the use of her long range device. Her emitter does not have a spread similar to the Irritator, she can only target one object at a time but compensates for it with an accuracy so good she's able to affect flying units. With an altered purpose, the Deviatress is not able to hijack enemy units.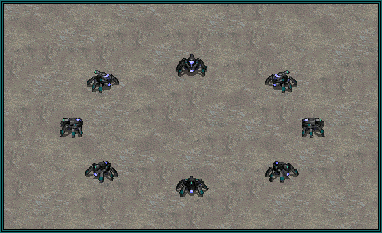 Clairvoyant turns into Foehn Duplicant by Starkku
Sacrificing its infiltration and amphibious capabilities and the ability to increase its speed with the Windspin, the Clairvoyant turns into the Duplicant - a killer device which stalks its prey and devours it whole at the most unexpected moment. The artificial intelligence inside a Clairvoyant is completely repurposed after the Nanofiber Sync to control nanoids in its body in a similar way the Huntress controls hers to disintegrate the enemy infantry. However, instead of reusing the acquired materials to heal and repair the damaged troops, the Duplicant will try to use all of them to create additional copies of itself. The process takes a short while, enough for enemy soldiers to try and fall back if any of them fall victim to the Duplicant's "devouring" process.

..oh, and there's also the obligatory Engineer, but he doesn't get any special powers yet.
Sorry, little Engineer!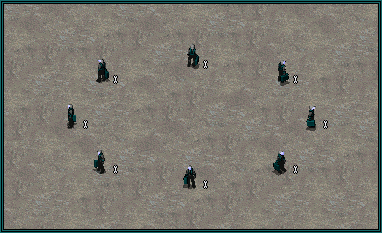 Foehn Engineer
This news post does not reveal all of Foehn's infantry of course. There is still Tier 3 and heroes to come.


We've recently finished the Cooperative Playthrough, which means we can entirely focus on new content from now on. There's been a major update to the Soviet Co-Op mission Ego Ergo Hax with Yunru. Here's what it looks like now.



If you'd like to help develop Mental Omega further, write an e-mail to mental.omega.apyr@gmail.com
We always welcome additional Voxel Artists, 3D & SHP Artists, Mission Scripters and Voice Actors.
Single contributions are also welcome and will speed up the development of the mod.




Posted on April 20, 2016 by - Comments: 36
Mental Omega News Bulletin #22 (17/03/2016)
Silent but not inactive, we've been working on new features for the mod and have begun integration with the current version of CnCNet. More news on that later though, as today we'll dive into the latest additions to the arsenal in Mental Omega, including new Foehn equipment. I post more frequently on Twitter so follow me if you want to stay posted.

Oh, did you miss it? The new side's name is The Foehn Revolt. Why? You'll learn in the campaign.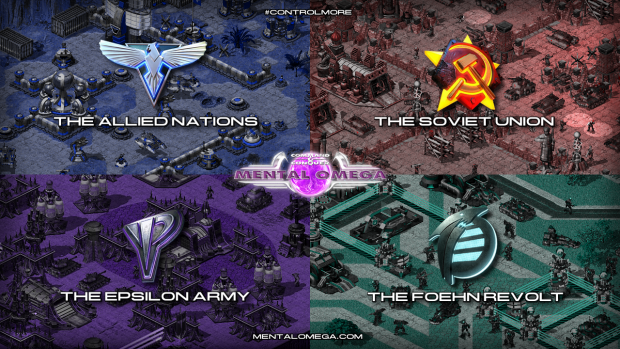 You might already know World Beyond if you searched for the full version of the music we used in the Side 4 Reveal Trailer, The Remnant. Vladimir Kuznetsov returns with yet another great piece of soundtrack, a tribute to the Command & Conquer: Red Alert series - The Last Line of Defence. This song will also appear as a part of Mental Omega's Foehn Soundtrack, who, just like the three original sides of the conflict, have their unique soundtracks in our mod. More songs will be revealed in time. Give other World Beyond tracks a listen in the meantime.


New stolen technology units. We have them.


The new stolen technology roster: 11 units to go.

"After losing the blueprints and prototypes of the Future Tank X-0 during the Okawa Falls incident, Kanegawa Industries continued their work on a fully automated battle tank in several locations around Japan which had not yet been stormed by the Chinese forces. However, even the remaining facilities were eventually forced to shut down, as the Soviets won the war and China took control of the remaining Seismic Stabilizers in the country. KI executives decided to cease mass production of the X-1 prototype and destroy all data related to the vehicle when they realized that the Pacific Front would not be able to defend their facilities, some of their generals even surrendering to the invaders.

It wasn't until many years later that the Future Tank Project was resurrected by the people who reactivated some of the now long forgotten Kanegawa Industries research facilities in Japan and completed the X-2 prototype using their advanced technology."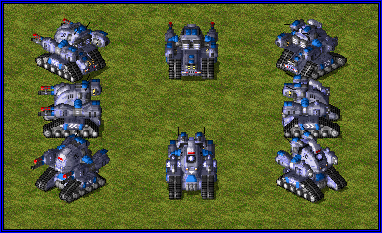 Allied Future Tank X-2 by ONE X

The new Future Tank X-2 is a slower but better armored version of the experimental fully automatic tank designed to destroy enemy battalions and resist mind control. Equipped with several advanced weapons, the tank is capable of dealing lots of damage to enemy vehicles be it a single target or multiple objects in an area. In-game, the new Future Tank is a vehicle the Allies can build after infiltrating one of Foehn's technology buildings and matches their firepower and heavy armor in combat.

Future Tank X-0 will no longer be available in skirmish, but will remain as mission unit.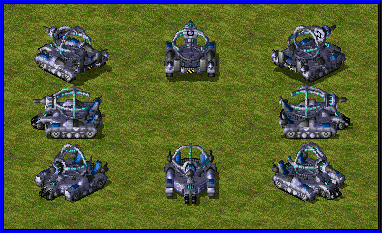 Allied Chrono Prison by cyanideT
Previously mentioned, but not presented, the Chrono Prison allows the Allies to combine their chrono technology with Yuri's mind control in order to create a vehicle which can capture and chronoshift enemy units at great ranges. If the unit is immune to the tricks of mind control, it'll simply be trapped inside the vehicle.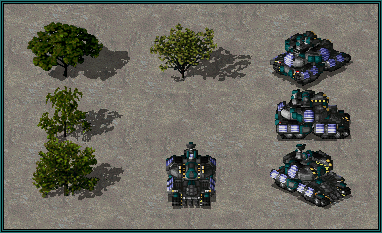 Foehn Phantasm MLRS by Moder.U
To Foehn, the Mirage is one of the technologies lost in the chaos that unfolded during the Battle for Antarctica. Upon finding an Allied Tech Center, chances are that the Clairvoyants will be able to recover this technology. Once that happens, the Phantasm MLRS can be built, a vehicle that fires a volley of powerful projectiles at enemy vehicles and aircraft alike. The Phantasm's other advantage over the Mirage Tank is that it can fire on the move thanks to its rotating turret.

To stray from the Stolen Tech additions, let's focus on the main arsenal additions. First, a familiar one.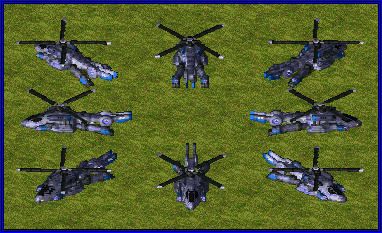 Allied Cryowhirlybird Cryocopter by ONE X
It should be noted first that with the introduction of this unit the role of Hummingbird has slightly changed. The high-tech jet available after constructing a Warpshop will now use its time manipulation devices to decrease the firepower and speed of enemy units in an area by 50% for a moderate while with a single instant strike. The Hummingbird is now also without a doubt the fastest aircraft to rely on air pads in the game.

While Red Alert 3 had its faults, I thought the introduction of the Cryocopter to the roster was an excellent idea and it remains one of my favorites. With all the new features that Ares adds it's become possible to somewhat emulate the freezing effect of the original Cryocopter from Red Alert 3. The longer its freezing beam fires the lower an object's armor and speed is until it freezes completely, making it immobile, unable to fire and also very, very fragile to attacks. Shrink ray not included, sorry.


Epsilon Dybbuk-Evolver by Azri_Apoc
The Dybbuk-Evolver is the third type of the Dybbuk series in Yuri's Epsilon arsenal (the first being Gehenna's Interceptor and the other Attacker available from the Epsilon Aerodome). It is available to the Proselytes after both the Aerodome and a Cloning Vats has been constructed. The Evolver carries a payload with an experimental substance which will rapidly mutate dying soldiers into loyal Brutes, similar to Rahn's weapon, although at a smaller rate. The gas will also deal decent damage to vehicles and buildings alike, but its primary function is to eliminate large groups of enemy infantry. The Evolver is a bomber; it will not be able to out-range enemy anti-aircraft weapons so extreme caution is advised when relocating the unit, especially considering its high price and late game availability.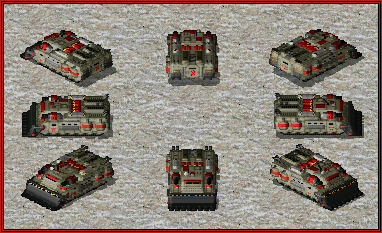 Chinese Armadillo by ONE X
Due to the lack of an artillery unit that can be mass produced, the Chinese get an additional fist to punch enemy defenses with - the Armadillo. This unit is a bigger and tougher version of the iconic Borillo, with literally double the firepower and additional space inside vehicle for more troops to suddenly deploy at the enemy gates.

Let's move on to the Foehn Revolt.

Foehn Windbelt by Bu7loos
Foehn's power plant is not an ordinary one. First of all, it is the smallest energy generator and also pulls double duty as the side's wall. When two Windbelt posts are placed in a line, they are connected with nanofiber cords that enhance their cooperation during energy production. Windbelt is a wind-based power plant that generates 100 units on its own, while each 'length' of its cord allows for a bonus 10 units, meaning that the longer the Windbelt connection, the more power is generated. The barrier created by two Windbelt posts can only be shut down with EMP/hacking weapons and will not go down if a Foehn base is low on power.

Another one of the Windbelt's unique features is that it can relocate in case you want to adjust your wall placement or want to barricade a different location. The Windbelt can relocate by switching into a mobile mode, during which it floats and can also travel over water. If a Spinblade is nearby, the Windbelt's speed is increased when in mobile form. The Windbelt has its drawbacks too: just like any other power plant it can be infiltrated by spies, which means that a smart base layout is needed to protect them from the spies due to its function as the side's wall. There are a few additional tricks Foehn can use to prevent spies from infiltrating their small power plants. You'll find that with all the Foehn's objects in their Armory, their base can become quite a maze.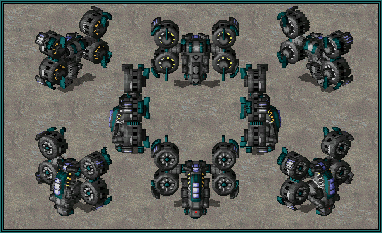 Wings of Coronia Alanqa Skystation by Moder.U
The Alanqa Skystation is the flying guardian of the Coronia. It is for the most part their dedicated Tier 3 anti-aircraft unit, using high power turbines to manipulate the flow of air nearby. With four of its specially designed generators it can take down enemy aircraft and even the levitating units of Epsilon in a matter of seconds. The Alanqa is not defenseless against ground targets either, this machine can use its engines to create powerful tornadoes which will sweep enemy infantry away with ease and deal solid damage to vehicles. While a single Alanqa is not very effective versus heavily armored military buildings, an entire division of them might be enough to demolish whole bases. However, taking on enemy anti-aircraft units might be a challenge due to the Skystations fragile turbines and light armor.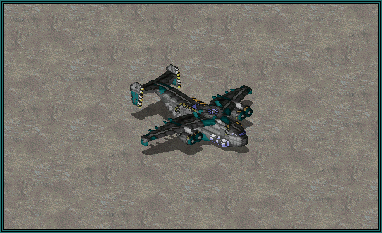 Wings of Coronia Harbinger by mevitar (Watch video)
"The Harbinger's legend began during the days when it was just a project in the research facilities of Kanegawa Industries. Before the Chinese attacked, research on particle collision-based weaponry was well underway and the weapon itself was supposed to give the Pacific Front the ultimate advantage over their enemies and perhaps even the ace up their sleeve during the Allied leadership negotiations. After most KI facilities fell into Chinese hands so did the project and laboratories where the tech was being developed. However, due to unforeseen circumstances, the weapon wasn't finished by the Chinese either."

The Harbinger is the Wings of Coronia's powerful flying fortress, using its particle colliders to level enemy bases with ease and eliminate enemy units of any type, be it on the ground, water or in the sky. The Harbinger can be summoned onto the battlefield to bombard an area through a support power after an expansion for the Cloud Piercer has been built.

Now, as one would expect, Foehn will have its own navy. Here are some of their naval units.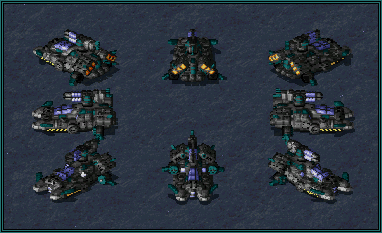 Foehn Swordfish by Moder.U

The Swordfish is Foehn's basic naval unit, the equivalent of the Destroyer, Typhoon and Piranha. While its basic speed is comparable with that of the Destroyer's, the Swordfish has engines similar to those of the Jackal and Sweeper, which allows it to gain speed boosts when near a Spinblade. Their basic weapon is a high-tech cannon, effective against armored units and buildings. The Swordfish does not deal much damage to infantry which is why it should be supported with other units like Jackal Racers when engaging amphibious troops.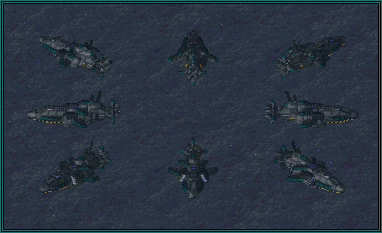 Foehn Angelshark by Zero18

The Angelshark becomes available when both the Shipyard and a Cyberkernel are constructed. This unit relies on Foehn's confusion technology to cause havoc among the enemy forces. When enemies are struck by the Angelshark's drone in torpedo mode, there's a high chance they will start firing at their own allies. Unlike the discarded chaos gas, confusion weaponry does not increase the rate of fire of affected units. The Angelshark can also deploy its drone in a mine form. The mine will remain in the area for a short time and apply the same confusion effect to all units that come near it.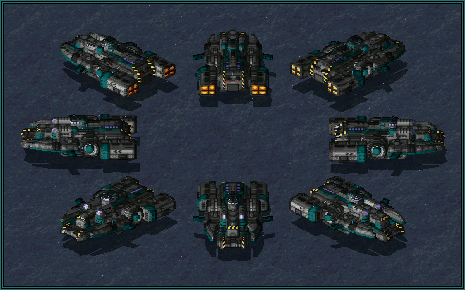 Foehn Warturtle Transport by Moder.U
The Warturtle is Foehn's amphibious transport. It has 12 passenger slots which can be used by units and soldiers of various size. The Warturtle's special ability is that it also can make use of Spinblades to increase its speed, making it the fastest amphibious transport in the game. Its normal speed is comparable with the Voyager's and Zubr's.

During a "designer's block", Alstar and I kept testing Act One Cooperative missions, recorded them and uploaded them to our YouTube channel as always. After we complete and confirm that all of the missions are still working, I'll be returning to work on fixing and finishing Act Two. I'll also upload some footage, maybe even a complete playthrough of 13th missions.
Here's a Yuri Co-Op: Brain Reset, explaining how the Soviets lost the mind control tech. You can view gameplay from the rest of the co-ops here.

Big thanks to the many people making this project's further evolution a possibility!
Stay tuned for more updates.


If you'd like to help develop Mental Omega further, write an e-mail to mental.omega.apyr@gmail.com
We always welcome additional Voxel Artists, 3D Artists, Mission Scripters and Voice Actors.
Single contributions are also welcome.




Posted on March 16, 2016 by - Comments: 7
Mental Omega News Bulletin #21 (31/12/2015)
It's the last News Bulletin of 2015! First of all, we want to wish you all the best for the next year, including a new release of Mental Omega (as soon as we are done with Act Two, Side 4, stolen tech and several other tiny little things that still need a bit of work but will definitely result in something cool). May 2016.. be also the year when Command & Conquer returns, hopefully.

The ModDB Mod of the Year 2015 Awards are over now and thanks to your huge support in this year's competition our mod has achieved the best results in its entire history! While we've been hitting the TOP100 for the last 6 years, this time we were able to reach much higher in the overall competition and we couldn't do this without you, the fans.

Mental Omega got 3rd place in both Editors Choice and Players Choice!


To celebrate we are revealing the return of a familiar unit, but in a completely different form.



The new stolen technology roster: 13 units to go.
If you've been with us since the times of Mental Omega 2.0, you might remember that the Chrono Prison used to be a part of Mental Omega and for 3.0 it was remade as the Charon Tank - the unit which can instantly warp away any enemy infantry or tank but has quite a long reload time. This new Chrono Prison is a completely different unit and it makes use of Ares abductor logic, in a similar fashion to the Drakuv.

When the Allies acquire additional technology from Yuri's laboratories they are able to build the new Chrono Prison, a unit capable of abducting enemy vehicles into its "personal warp space", where time flows differently and there's enough of it to brainwash the pilots of the vehicle, efficiently turning the unit to your side the moment it exits the Prison. Once a unit becomes trapped by the Chrono Prison, there's no turning it back, however this method will not work on units that are too large for it to steal.

But that's not all! If you've been following our Facebook or ModDB profile you might have seen the videos which show the following Side 4 units in action.

Haihead's Megalodon



Wings of Coronia Pteranodon



Jackal Racer
Megalodon, Pteranodon and the already familiar Mastodon are, as they are called among the Mental Omega players, "Tier 3 monster tanks", the equivalents of units like Abrams, Catastrophe or Colossus, however in the case of Wings of Coronia's unique unit the term "monster tank" should be expanded to.. "flying monster tank" as it is indeed the only flying equivalent of this particular technology tree slot. While the Megalodon is not a tank per se either, it at least keeps its feet firmly on the ground.

Haihead's Megalodon is a close-combat mech which uses its energy blade to quickly slice through enemy infantry and vehicles alike, it doesn't have a problem taking enemy buildings down either. However, its lack of range and moderate armor might require you to get rid of enemy defenses and long-range weaponry first. Another solution is to use a special support power called Megaarena which enhances the Megalodons with a special energy shield, unleashing the the units' AI's full potential, making it faster, more evasive, and even more relentless in combat.

The shield itself will instantly vaporize most enemy infantry it comes in contact with, turning it into an incredibly powerful, but still limited anti-infantry weapon. Keep in mind that in order to keep the Megaarena active, a Megaarena Projector must be placed on the battlefield first. If this special building is destroyed, it will not be possible to increase Megalodon's effectiveness with the support power. Your enemies will definitely try to take it down as soon as it is deployed, so be careful where you place it as it is not cheap.

The Pteranodon, which exclusively belongs to the Wings of Coronia, is a dedicated anti-armor aircraft that uses a weapon with a large area-of-effect. While it has no anti-aircraft weapons of its own, it can fire on the move and with its speed it can escape from most anti-aircraft projectiles when in peril.

The Jackal Racer is a Tier 1 anti-infantry unit available for all of Side 4's subfactions. It is capable of moving over water but can also be sped up using the Spinblade in a similar fashion to Sweepers and Clairvoyants. The Jackal has two slots for passengers, however most of Side 4 infantry takes 2 slots anyway (the exceptions being Engineers and Clairvoyants for example) so in the end it is capable of transporting one soldier in most scenarios. The sonic wave that the Jackal emits will damage anything in its way, which combined with this unit's fire-on-the-move ability and the fact that passengers can fire from inside make it a powerful early game weapon and an important asset in this army. However, it is quite costly when compared to other faction's Tier 1 vehicles.

Megalodon by Holy_Master of Reign of Steel mod. Pteranodon and Jackal Racer by Bu7loos.

We'll see you in 2016!

While we are uploading new playthrough videos on a much faster pace than these news appear, I thought I'd embed them in order in the upcoming news in case somebody misses an update. Here is Soviet Co-Op "Burned Alive". Subscribe to our channel if you want to be notified when a new video shows up.


If you'd like to help develop Mental Omega further, write an e-mail to mental.omega.apyr@gmail.com
Right now we're in need of additional Voxel Artists, 3D Artists, Mission Scripters and Voice Actors.
Single contributions are welcome.




Posted on December 31, 2015 by - Comments: 1
Mental Omega News Bulletin #19 (16/11/2015)
The Mental Omega Act One playthrough is over and it's finally time to post some news. While the recording of all 36 missions gave me a chance to once more test and adjust all the Act One missions, I'm glad it is done as now I can fully focus on finishing the Act Two campaign and the design of Side 4 which we announced a few months ago in this trailer.

Replaying the first 36 missions of Mental Omega which have been released back in 2013 made me reconsider some of the missions' difficulties and tone them down a bit, even on Mental, as you have perhaps noticed. I have also been driven by the thought that none of those missions should really clock over 1 hour of playtime except for the Finales, even on the Mental difficulty, so changes have been made to make them flow faster. I was also able to fix a bunch of bugs and continuity errors which I hope will no longer be the case in the next release.
 


The addition of this new side and all the new unique weapons and powers the mod will have is only possible thanks to the Ares Expansion DLL's existence and AlexB's continuous efforts to make Red Alert 2 Yuri's Revenge as moddable as possible. From the possibility to choose a new side in skirmish or campaign, to the additional interface visuals and audio settings, and of course all the weapon and superweapon logics which are all possible with Ares. Side 4 relies on the DLL in almost every way. It is thanks to all those features that Side 4 will have its unique gameplay mechanics and style.

It is thanks to a solid team of modders, mappers, artists and voice actors (I am obviously not the only one working on this project!) that Side 4 will have its distinct look, sound, and even their own missions for both single player and cooperative modes. A full list of contributors will be available on the usual page shortly before the release, but as we reveal the new buildings and units I will tell you more about their authors already. I'd also already like to mention World Beyond, whose music was used in the Side 4 reveal trailer and will be used in the game as well.
Here is the full version of the song used in the video, "The Remnant":
 
 
The introduction of a fourth side will obviously result in the increase of total subfactions available in the mod from 9 to 12 as we have been designing this new side with the intention to give it 3 unique subfactions from the beginning. If you are following Mental Omega on Facebook or ModDB then you already know their names: from left to right, it is Haihead, Wings of Coronia and the Last Bastion.
 

The skirmish loading screens for these subfactions have all been created by Nooze.
 
"Nobody Home". I guess that if I disclosed the amount of missions they will be getting to you right now, that would be some sort of a spoiler, so I will not be doing that right now.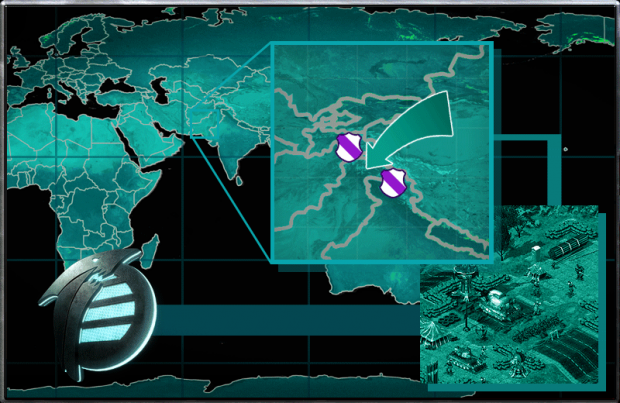 The Mental Omega installer, with its classic "Red Alert 2 Setup.exe look" will be updated to feature several of Side 4's objects on the new so-called blueprints. So far, we've got three, which present the Teratorn, the Mastodon and the Plasmerizer. The models have been created by Moder.U, Lobstrex and Bu7loos, while the artwork is the result of combined efforts by Tomsons and Nooze.
 
Stolen Tech system. There will not be a set of 4x4 stolen tech infantry units. Instead, there will be a set of 4x4 stolen tech vehicles, while what used to be the stolen tech in the current release will be repurposed or scrapped. We will go into more details on this matter later, however here's one of the new stolen tech vehicles, created by Azri_Apoc: the Soviet Grumble - the ultimate anti-aircraft system which requires to be deployed before firing its powerful rockets at great ranges.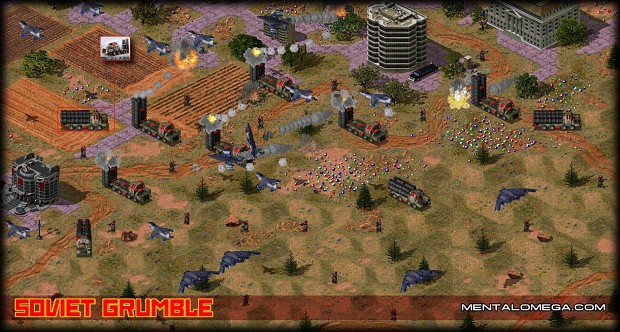 Forget what you know about Future Tanks, Deviators, Apocalypses, Chrono Ivans, Cyborgs etc.
This is the stolen tech reboot. 


The new stolen technology roster! 15 units to go.

The original sides have also undergone some changes and received new equipment.
 


If you'd like to help develop Mental Omega further, write an e-mail to mental.omega.apyr@gmail.com
Right now we're in need of additional Voxel Artists, 3D Artists, Mission Scripters and Voice Actors.
Single contributions are welcome. 
 


Posted on November 16, 2015 by - Comments: 9
Mental Omega Playthrough - Act One Finales!
It is done, the series of Mental Omega Act One playthroughs on Mental has come to an end and so we're halfway through our mod's story. The upload of last Yuri mission took a while but it required some modifications so that I could say that it's been improved for the next release. Only news and new content now, also on our channel to which you should totally subscribe right now if you want to receive notifications on the latest video updates.
 

Yuri's Epsilon Mission 12: Moonlight has undergone several changes, including the addition of Soviet MCV reinforcements which allow you to rebuild the factories. You no longer have to worry about losing the only factory you capture in the first Launchpad outpost, however this MCV arrives only after you successfully extract contents of the first station. The pacing of this mission has been improved, it takes less times for the Drillers to transport the neccessary parts away. You will now also be able to build the Iron Curtain in case you need it for something, it might be useful for protecting the captured Launchpads for a short period of time too.
 

Soviet Mission 12: Dragonstorm's most important change is.. a spoiler so either you'll have to play it for yourself or just watch the video above. There is a modification to how the mission works in the later stage after a certain reveal. There are more attacks on your base, however if you prepare your defenses properly you shouldn't have bigger issues dealing with enemy units. This Act One finale is most likely the easiest of the three.
 

Allied Mission 12: Sunlight did not receive too many changes. It is still a challenging finale, especially on the Mental difficulty which is full of surprises like a Nuke Silo threatening your Gladius Defense Systems or Dreadnoughts protected with the Iron Curtain. At certain point you will probably have to expand to the other side with resources and choosing the right time to attack the island might be the most important decision to make during this mission. This, and when to use the Force Shield you can prepare in this mission. As always, use more Thors. 

Check the website back on MOnday for the return of News Bulletins. Stay tuned!
 




Posted on November 12, 2015 by - Comments: 2