Latest Release:
3.0 Beta Revision 1 (30 Nov 2013)
Stream is currently
Mental Omega News Bulletin #6 (15/12/2014)
As the end of the year approaches, the download count for Mental Omega 3.0 closes in on the round number of 100,000. Seeing this much interest in our little project and having entered the TOP100 of ModDB's 2014 Mod of the Year for the 5th time in a row in this annual contest rekindles my interest in continuing it. While we didn't make the update many were waiting to happen this year, we haven't been slacking off and I hope the new content we've been working on and the improvements to what you already have will make up for it next year. There is a big thing coming along with long overdue fixes and I think you'll like it.

Big thanks to everyone who voted for us this year, the second round is still on-going so if you'd like to vote for us again, head to the voting page with the TOP100 mods.
 

Yuri is love, Yuri is life. Yuri restarts the Psychic Amplifier project and is keen on defeating the Allies hidden within the London Fortress without having his forces ever set foot on the British Islands. His device is capable of reaching the Euro Alliance forces from mainland Europe, however Yuri does not just pick a random location for the construction site. Yuri sends a message, Yuri defies all authority. He has constructed a device in Rome and takes the role of the Puppet Master.
However, there are others who want to try their hand at pulling the strings. In order to take out the device, a risky plan is put into action, perhaps the only way to prevent the Psychic Amplifier from completely taking control over your troops. What does it take to create a safe area within the Amplifier's zone of influence? Play 'Puppet Masters' and claim the mission's namesake as your title.
 



Map Preview #15: (2) Knockout (urban; standard map pool) by Toveena
Map Preview #16: (2) Battlebase Beta (urban; standard map pool) by Toveena
Map Preview #17: (2) Amazonas Zeta (temperate; standard map pool) by Toveena
Map Preview #18: (2) Freezing Field (snow; standard map pool) by Toveena
We like symmetry. We are the fans of symmetrical maps, which is probably something you have already noticed. With so many subfactions and different balance setups, if you added the factor of completely assymetrical maps, that would be quite a mess. Be it remakes, maps inspired by layouts we've liked, we want to give the players even chances when it comes to terrain design, especially on 2P maps.
 
It shouldn't be a surprise by now that Mental Omega 3.0 and its future developments are often made possible thanks to Ares Expansion DLL. The entire 'big thing' we're working on right now relies on its new features. Before we get to that however, there are other misc things Ares allows us to create.

The newest addition to the Euro Alliance arsenal is the Lightning Rod, which is accessible from the Shield Command. Placing this structure on the battlefield will temporarily grant you an emergency power boost using the natural energy of lightning (1000 power units, which decreases steadily as the Rod approaches the end of its lifespan). It will also boost the firepower of all Thors near the Rod itself.

There are several Ares features put to use here. Such as a support power which places a structure on the battlefield, done with UnitDelivery. Increasing a Thor's firepower and making it show a fancy red arrow is done with AttachEffect. To properly apply the effect to the units nearby, use of Custom Armor (the weapon affects Thor and Thor only) and Airburst enhancements (makes the effect always active via targeting of any unit on the battlefield, but the sub-weapon is the one which applies the effect to the Thors) was made. Since the Lightning Rod isn't supposed to stay alive forever, it shouldn't be possible to prolong its lifespan with Force Shield, which is where we use Force Shield modifier. 

Euro Alliance Lightning Rod support power (artwork by Nooze)
As you are probably aware of by now, the original Floating Disc has been downgraded in Mental Omega 3.0 a bit. Under its new name, the Invader, it is now a Tier 2 flying anti-infantry unit. It retains some of its sabotage capabilities  as it will still be able to drain money from Refineries or disable any defensive structure, even the unpowered ones. The original ability to shut down a player's entire power supply by attacking a single Power Plant felt like too much, which is why that particular ability has been removed. 

Invader using the draining ability
However, thanks to a new feature in Ares DLL, the customization of draining abilities for the Invader has been expanded. It is now possible to make this particular unit shut down power just from the Power Plant it is attacking with the Drain.Local tag. You can also customize the exact amount of power the unit will drain with Drain.Amount. More information as usual is in the documentation. In the next version of Mental Omega, the Invader will be able to shut down a single Power Plant. Watch out for those Nuclear Reactors! 

"Proselyte, intel acquired from the Kanegawa Industries Complex in Kagoshima contained the blueprints of several mechanical frames we have not seen before. We assumed they were prototypes, the only one which was successfully realized by the Pacific Front forces being the Tsurugi Powersuit.
However, a recent sighting by our Initiates has confirmed activity of a small division of bipedal walkers which resemble the design included in this captured material. We must be careful. Perhaps the Pacific Front is planning a rebellion, or maybe it's the Chinese who have found a way to complete one of Kanegawa Industries projects. We are unsure if these suits are manned or not, which may bring our psychic powers into question. We cannot allow this!"
Enjoyed "Contagion" from the Twisted Insurrection soundtrack? You might want to check out these two new tracks I've created for the next update of Aro's Tiberian Sun modification. After creating a subtle remix of "Act on Instinct" for the Allies in Mental Omega 3.0 I thought I'd have another go at the classic Frank Klepacki song and make a version suitable for TIn's eclectic electro soundtrack as well.
Viperbeat



Act on Insanity

Do you know how to unlock the Cyborg Commando in Beta Revision 1 yet? 

If you'd like to help develop Mental Omega further, write an e-mail to mental.omega.apyr@gmail.com
Right now we're in need of additional Voxel Artists, 3D Artists, Mission Scripters and Voice Actors.
Single contributions are welcome. 



Posted on December 15, 2014 by Speeder - Comments: 5
Mental Omega News Bulletin #5 (1/12/2014)
Yesterday it's been exactly 12 months since the release of Mental Omega 3.0 Beta Revision 1. The day after its release, ModDB began the 2013 edition of their annual awards, in which we reached the TOP100. This year, with the beginning of December, the ModDB 2014 Mod of the Year Awards begins.
If you feel like supporting us in this competition, you can head to our mod profile @ ModDB and cast your vote. Every vote counts and it's a great way to show your support for the project and future developments thereof.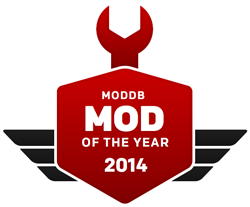 Now, let's return to the weekly news bulletin, shall we?
 


Question: Will there be a mission in London in Act Two? Answer: yes, obviously.
The remaining Allied forces are hiding there after they emerged victorious in Sunlight.


..okay, that's a bit of a cop-out. You might have seen this picture before on ModDB. Let me show you a screen from a different mission.

 




Map Preview #12: (2) Tournament Arena (urban; standard map pool) by Speeder
Map Preview #13: (4) Battleblock Theatre (urban; standard map pool) by Toveena
Map Preview #14: (6) Advanced Warfare (new urban; standard map pool) by Toveena

'(2) Tournament Arena' is a loose remake of a very popular tournament map from Tiberium Wars. Nothing describes this map better than the word "simplicity". It is very open but still has several key areas which you should take control of as soon as possible in order to gain advantage over your enemy, or rather, to not stay behind. The Base Expansion Post near the gem fields is an important asset; it must be captured and defended as soon as possible. Perhaps it's worth capturing right after your first Barracks are up? You'll have to try.

'(4) Battleblock Theatre' is Toveena's original and very unique skirmish map divided into 25 zones, each zone has very interesting objects the players might find useful. The center of the map has a Tech Missile Silo, Tech Sat Hack Centers & Tech Secret Labs, all surrounded by Tech Irradiators which will now be seen on skirmish maps other than '(8) Cowfields'.

'(6) Advanced Warfare' is based on one of the Uprising Challenges, although this one was designed for 6-player battles. Capture the Tech Armory in the middle for quick veteran infantry. Go for the Tech Expansion Posts on the remote concrete islands to gain fast access to the only gems on this map and slam down a Shipyard at the enemy's gates, or rather, shores.
 


"Proselyte, as Yuri foresaw, our enemies from the European Alliance continue to develop their technologies and experiment with new weapons. We can sense it. Our foes are creating potent weapons which they will use against us. We must strike first and destroy the SteinsTech Hangar within the London Fortress, it so happens we have just the thing for that."

Thanks to Ares DLL you can heavily customize the Chronosphere weapon. A long time ago, when I first tried to use its new settings, I achieved quite devastating effects.. I'm still trying to figure out how to expand the chrono technology for the Allies in some interesting ways, the Allies definitely are developing something interesting in the London Fortress! Read the documentation here.


 

If you'd like to help develop Mental Omega further, write an e-mail to mental.omega.apyr@gmail.com
Right now we're in need of additional Voxel Artists, 3D Artists, Mission Scripters and Voice Actors.
Single contributions are welcome.
 


Posted on December 1, 2014 by Speeder - Comments: 3
Mental Omega News Bulletin #4 (24/11/2014)
"Welcome back Proselytes, did you know Red Alert 2 is now 14 years old? Long live Red Alert 2!
Stand by for battlefield update. The enemy is sending secret messages we have yet to understand."

If there is one mission that epitomizes a recurring theme in the Act Two missions, it would be..
After the impossible team-up of Allied and Soviet heroes and the establishment of (almost) every hero's presence in Act One, you'd think more of these missions would happen and that we'd even step up our game and make a mission which features 3 heroes of a side. Your predictions are right and that will happen. That's all I'll say for now about heroes teaming up.

Operation: Divergence is an important milestone in the Epsilon's quest for world domination. The still-fighting Soviets managed to find a device which is crucial to Yuri's plans, so both Rahn and Malver are sent to Germany to retrieve it. The mission combines a strike force micro-management type mission with standard base building and base-vs-base gameplay. Be prepared to face more than just one enemy in Act Two base building missions though.
 



Map Preview #9: (2) Casual Encounter (snow; "Islands" map pool) by Speeder
Map Preview #10: (2) Nevada Valley (temperate; standard map pool) by Toveena
Map Preview #11: (4) Kool Party (snow; standard map pool) by Toveena
As you can see, we've remade some fun Red Alert 3 maps just like we did in the past with such maps as '(2) Industrial Strength' and '(3) Pyroclasm'. This time, the map pool has expanded with remakes of '(2) Casual Encounter', available in the Islands game mode, and '(4) Kool Party'. Both of the maps take place in the snow theater and force players to rely on amphibious/naval forces. Because, you know, water. '(2) Nevada Valley' is one of those maps that proves how important the high ground really is.
 

Lots of players have been complaining about the inability to tell which units detect stealth objects, especially after getting their entire armies destroyed by Malver alone. Since I understand most of you don't read the instructions or anything from our detailed Factions section which contains all the important information, I've decided to make this specific information clear seen on the cameo itself.

If there is any other information which you think should be included on a cameo, write about it. 

Borillo: amphibious + stealth detection
Here's something I've been experimenting with to get rid of the Firestorm.Wall tag on the EMP Mine, because reasons. After seeing a certain post on PPM, I was inspired to use Ares' UnitDelivery and AutoFire options on super weapons to allow the placement of multiple structures at the same time. This is the first contender and a likely keeper: the EMP Mines. Once you build them, you will have to place a 1x1 structure, around which 5 EMP Mines will be spawned at the free cells. Units can still go over these thanks to the new IsPassable tag.
 

This is semi-related to Ares technology, but I am yet to see a mod which uses custom tesla bolts combined with extended prism support to create a new version of 'Prism Forwarding: The Movie'. Maybe I should work on a sequel myself.. How to achieve this in game? Read the Ares documentation first!

If you'd like to help develop Mental Omega further, write an e-mail to mental.omega.apyr@gmail.com
Right now we're in need of additional Voxel Artists, 3D Artists, Mission Scripters and Voice Actors.
Single contributions are welcome.
 



Posted on November 24, 2014 by Speeder - Comments: 4
Mental Omega News Bulletin #3 (17/11/2014)
Weekly updates continue, with more Act Two missions revealed and additional info on new features planned for Mental Omega. We start with a visit to a place familiar to some..
 

After Act One the Soviets emerge victorious and control the entire European continent. They've built a large prison facility in Warsaw, the capital of Poland, which in this timeline is never completely destroyed. Now a city transformed into a fortress, where the Soviets hold one of their most valuable prisoners. You, as the Allied commander, will have to use the first ever Chrono Legionnaire suit to rescue this prisoner. The Allied Act Two begins with.. 
If you ever wondered, why the Allies never used their teleport troops to end all conflicts, Mental Omega will offer a believable explanation. The Chrono Legion is an elite assassin task force lurking in the darkness of time and space, preparing for the moment when the Allies will be ready to fight back against their oppressors. With limited resources available in Great Britain, the technology becomes highly experimental and expensive, and if it would ever fall into Yuri's hands thanks to mind control, it would likely put an end to all Allied plans for an insurrection.

Any screenshot of another location in this mission would be a major spoiler, since the city is a labyrinth and the map design relies on Chrono Legionnaire's inability to teleport into shroud, which is why this is the only one we can show to you, at least right now. A hint though: the end is where The Mermaid is. The building's artwork was created by Nooze.
 
A new Ares DLL feature introduced in version 0.8 allows us to create buildings which when owned will make all newly build units or even structures veteran or elite at the moment of their creation. The feature has additional customization, making it possible to specify which objects can or cannot gain these bonuses, meaning that you can create a structure which only grants immediate elite status to just Libra, for example. Read more about this logic here.

So far, we've made use of this feature and with Nooze's help we added 4 new tech buildings.
 
From the top-left to bottom right: Tech Academy, Tech Heavy Machinery, Tech Aeronautics, & Tech Defense Bureau, which grant initial veterancy to infantry, ground units, aircraft, and defenses respectively. We might consider adding one for the navy in the future. Special objects which grant elite status to selected units might appear in some form.
We have new tech buildings and with the introduction of new tech buildings comes a need to actually have those on the skirmish maps.
 



Map Preview #7: (4) Tournament Complex (urban; standard map pool) by Toveena
Map Preview #8: (4) Eternal Alliance (new-urban; standard map pool) by Toveena
Depicted in the links above are two brand new 4-player maps which feature the new tech buildings in important positions. Since they provide you early veterancy for the price of a single Engineer, capturing them quickly might give you a serious advantage early game and if you play your cards well and manage to hold the structure long enough, this advantage might give you victory. Designs of both "(4) Tournament Complex" and "(4) Eternal Alliance" encourage 2v2 team games, but by Mental Omega's game mode standards they are not maps limited to the obsolete 'Team Alliance' mode. You can, but are not forced to, play these maps in teams but also in any other mode you want.
 

Remember the Iron Fist? It's the unit which was supposed to work as advanced Soviet stolen tech until the enhanced Apocalypse Tank replaced it. Maybe we should think of a way to bring it back into the skirmish play.. Also that's a nice unused Mental Omega logo.
 

If you'd like to help develop Mental Omega further, write an e-mail to mental.omega.apyr@gmail.com
Right now we're in need of additional Voxel Artists, 3D Artists, Mission Scripters and Voice Actors.
Single contributions are welcome.
 



Posted on November 17, 2014 by Speeder - Comments: 4
Mental Omega News Bulletin #2 (10/11/2014)
Piece by piece we reveal more information on the development of the new Mental Omega release. Today we relive the past while also gaining a sneak peek into the future.
 

Imagine waking up in the Amazon rainforest, living through one of your worst nightmares! The iconic mission from Mental Omega 2.0 returns with a twist in order to induce a complete state of paranoia. You have an important mission to complete, one that could change the fate of this world but everything there is out to get you. Shadow Tanks, Basilisks, Invaders, Brutes, Viruses.. not to mention the large amounts of enemy troops hidden by the Chimera Cores. It is a terrifying scenario, even for two brave heroes such as Tanya and Norio. They will compensate for each other's weaknesses and hopefully, with your great commanding skills, will succeed in taking down Yuri's Psychic Amplifier.

Paranoia is now Allied Mission 19. Without spoiling too much, the main objectives haven't changed. Take out 2 Nuke Silos first, then the Psychic Amplifier. What has changed though is your party and a certain detail: both of Tactical Nuke Silos have to be taken out simultaneously, otherwise the one that's left intact fires and you fail the mission. Good luck! 
Operation: Paranoia
Don't remember the Mental Omega 2.0 version of Operation: Paranoiac? Check out this video!
No stealth cheating! Remember that you can still download the old versions of Mental Omega.
Is there any other mission you'd like to see make a return?
 



Map Preview #4: (2) Oil Spill Crisis (snow; "Islands" map pool) by Speeder
Map Preview #5: (2) Canyon Fodder II (temperate; standard map pool) by Toveena
Map Preview #6: (3) Canyon Fodder III (temperate; standard map pool) by Toveena
There is quite a clear theme in today's Map Pool Update: remakes & alternate versions. Since the original Canyon Fodder map was removed for Beta Revision 1 but many did have quite fond memories of it, we've decided to reuse its layout ideas which resulted in the creation of "(2) Canyon Fodder II" & "(3) Canyon Fodder III". There is also a bonus 4 player version which will be included in the next beta. "(2) Oil Spill Crisis" is a balanced remake of the original map Alaskan Oil Spill which was also removed for Beta Revision 2 and will only be available in the Islands game mode.
 
Something worth mentioning, but not possible to show, is a new feature that allows us to change the loading, victory and defeat music themes for the sides. It's something we've added to the next Mental Omega build and it's quite a nice detail. Recent updates to Ares also include a bunch of bugfixes such as no visible repair wrench animation on buildings which are cloaked and several fixes to the memory management issues which were the cause of crashes on newer systems while trying to start a second match in a row among few others.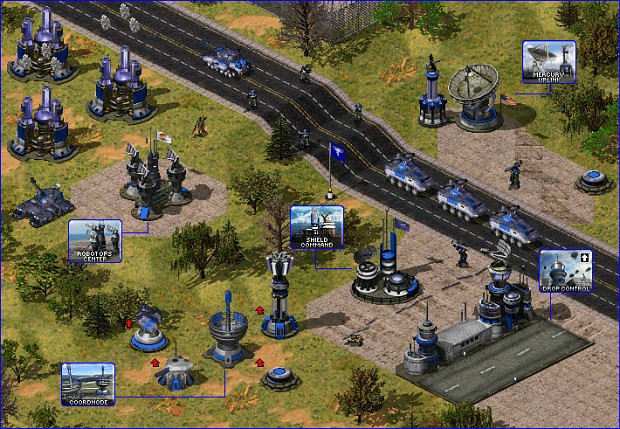 The addition of FactoryOwners in Ares 0.6 had me updating the tech trees for all three sides, something I will focus on in one of the future updates. The logic allows you set a factory constructed by a specific house as a prerequisite for various technology. As a quick example - to build most of the subfaction unique Allied technology you'll need to build one of the three buildings depicted above. However, in order to be able to build these as a subfaction which doesn't normally have them in the build list, you'll need to capture the Construction Yard of someone who does.
 
Ares also allows you to replace the mission selection in form of three buttons with a mission list, in case you make more than 3 campaigns or just want to let the players choose any mission at any moment without the need to use save files. The amount of missions visible in the list is customizable and so is the presence of short mission description at the bottom of the selection screen.
 

The amount of new missions grows and so does the number of loading screens for them.
 
Word is that the army of China has a workshop of their own and after their defeat in "Dragonstorm", they've been working on new weapons to try and take on the Russians once more. This piece of intel is unverified but there's a low quality photo. You'd think that with all the advanced technology available in the Mental Omega timeline there'd be halfway decent spying equipment.
 

If you'd like to help develop Mental Omega further, write an e-mail to mental.omega.apyr@gmail.com
Right now we're in need of additional Voxel Artists, 3D Artists, Mission Scripters and Voice Actors.
Single contributions are welcome.
 



Posted on November 10, 2014 by Speeder - Comments: 9
Mental Omega News Bulletin #1 (3/11/2014)
Let's get this started: regular media updates, here we go! With these I will attempt to regularly bring you news from the development of Mental Omega. We're still pushing the game to its limits and right now, we're working on Act Two of the Mental Omega campaign along with a secret side project I can't disclose to you yet.

As for the status of Beta Revision 2: regular patches for Beta Revision 1 were planned but after the initial release I've realized we've made several mistakes which I hope to fix in the next release. This means that Beta Revision 2 will be another full mod release and not an update. I was hoping for CnCNet5 implementation but the status of that is uncertain for now, so as the months have flown by we've been working on new content to compensate for the lack of regular updates. What I now plan to do is a full release next year with all the new content we've created and new important features & bugfixes which I'll be presenting to you in these media updates, starting now. These weekly or bi-weekly updates will reveal new missions, new maps, new units and even new music.

Speaking of secret side projects, have you seen the latest teaser yet?
It might include some secret side project stuff.
 

Subscribe to our YouTube channel to be notified about upcoming video intel updates as soon as they're up. There'll be a whole new series of shorter and longer development and promo videos.

First of all, you know there's Act One, you know there'll be Act Two. You know how many missions Act One has, but do you know how many missions we aim to have in the complete Third Great War story? The answer is.. 
When it comes to development, we're 1/3 done with the missions for Act Two with 1 dedicated mapper and 4 mission scripters. However, the more the merrier! Here are some previews from one of the new missions for Act Two, this one's entirely made by Sandman. Can you guess what it's about?
 
Operation: Power Hunger

With the addition of Toveena to the Mentalmeisters team, the amount of new skirmish maps in the mod is rising rapidly and as the counter grows, I am continuously surprised with new ideas for the battlefield layouts. The skirmish map naming format will also be changed for the next version. The amount of players on a map will be written at the beginning of the file name rather than the end. Because reasons. 


Map Preview #1: (2) Tournament City (snow; standard map pool) by Speeder
Map Preview #2: (4) Ebony and Ivory (temperate; standard map pool) by Toveena
Map Preview #3: (4) Temple Toveena (desert; standard map pool) by Toveena
 
My "(2) Tournament City" is a good start for when it comes to the implementation of Snow Terrain Expansion, which I was uncertain of including before. The need for a snowy city comes mostly from the planned mission in Moscow. The original Red Alert 2 version of that mission didn't exactly look like a huge metropolis covered in snow. Our Moscow will be completely different and definitely in trouble when Yuri reemerges from the shadows.
 
"(4) Ebony and Ivory" is another skirmish map with a Japanese theme and one of the few new maps to have the rain effects on it. In comparison, "(4) Temple Toveena" is the first map to include capturable neutral vehicles on the battlefield. More skirmish maps will feature them in the next version.
 
It is true that ever since the release of Beta Revision 1 of Mental Omega 3.0, the Ares Expansion DLL version has leaped from 0.4 to 0.8. I've made use of its many features and its bugfixes, which is something I'll be presenting to you in these media updates as well. There are lots of awesome things you, as a modder, can do with Ares when creating your own mod for Yuri's Revenge so maybe some of this will inspire you.

First comes the way AlexB restored and improved the EM Pulse Cannon superweapon from Tiberian Sun in Ares 0.8. One of the new features I was able to do with it is Drakuv Healthpacks support power. As long as you have a Prison Facility and Drakuv on the field, when you activate this support power, infantry around all of your and your allies' Drakuvs on the battlefield will be quickly healed. This replaces Drakuv's ability to heal T1 infantry. How does it work? A Type=EMPulse super weapon with EMPulse.TargetSelf=yes detonates a map-wide warhead which applies an animation with healing via AttachEffect to all of your/your allies' Drakuvs on the battlefield.
 
Thanks to Ares, it is now possible to give stealth sensors to buildings, which is why the Soviets now gain these new Sensor Towers. Instead of covering their bases or units like the Allies do with a Gap Generator or the Epsilon does with Chimera Cores, the Soviets can build these counter-intelligence defenses, which will also reveal enemy spies and any incoming enemies to you. Additionally, the Sensor Towers have a sight radius of 14, which is larger than vanilla game without Ares allowed you to have without issues.
 


The jump in Ares versions allows us to do much more with the game, I'll be covering that later.



 Random things from the Mental Omega workshop, no context, only for speculations or maybe just eye candy. The above is all work by Nooze, done in Blender. You can probably guess the scenarios in which some of these objects will be implemented, but I'll leave showing you the maps and in-game screenshots with the new objects for later.
 

After our message from July in which I had written that we're in need of additional mission scripters to speed up the development of Act Two, our team has grown larger with the addition of Chinese mission designer Sandman who has created the "Power Hunger" mission depicted above and is working on two additional missions. Mental Omega is a project by fans for fans.

 

We don't hire professional artists and level designers, but recruit people who'd like to help develop one of the last active modifications for Red Alert 2 today in their free time, to keep the game alive by creating something new for the fans to play.

Apart from Act Two, we're working on another big part of the mod which I hope to unveil sometime soon, depending on how fast development goes. Right now we mostly require new voxels and 3D models so if you're interested in contributing to this new secret project we're working on, write to mental.omega.apyr@gmail.com. Even small contributions in the form of single voxels, infantry models or building models are welcome. If you are a capable Red Alert 2 mission scripter, write to us as well.
  



Posted on November 3, 2014 by Speeder - Comments: 6