Latest Release:
3.0 Beta Revision 1 (30 Nov 2013)
Stream is currently
Mental Omega News Bulletin #9 (19/01/2015)
Welcome back, Proselytes. It is time to reveal the next weekly news bulletin to you.
The development of Act Two continues.
 

An unindentified object has entered the Earth's atmosphere. Its estimated destination has been determined by the Chinese navy who patrols the Pacific Ocean. Whatever it is, it's heading straight towards a location which turns out to be a PsiCorps fortress on the Exillian Island. The object is of utmost importance to Yuri's cause so the PsiCorps prepares for defense. The further direction of the Mental Omega War will be decided in.. 
By revisiting the iconic location from the Yuri's Revenge campaign, Operation: Dance of Blood gives us an opportunity to create an even more interesting reversal, in a very literal sense. The player is now controlling the PsiCorps forces who reside on the island, while the Soviet attackers strike from all sides and will establish bases at three locations which you could choose between in the original mission. The reversal does not end here, as instead of launching the space shuttle, PsiCorps will now try to land one. What exactly is the cargo Yuri is having sent from space? No one knows yet, but the Chinese might be the first to learn. Whatever it is, it will heavily weigh in on the outcome of this war.
 


Map Preview #25: (2) Flood (temperate; "Islands" map pool) by Speeder
Map Preview #26: (3) Unfair Advantage (new-urban; "Fortress" map pool) by Toveena
Map Preview #27: (6) Loaded Dice (desert; "Islands" map pool) by Speeder
Map Preview #28: (6) Stronghold Prime (new-urban; "Fortress" map pool) by Toveena
It's a special modes map special! We have not forgotten about the additional game modes and we're continuously expanding their map pools with additional entries. New "Islands" mode map '(2) Flood' is the answer to a question nobody asked: what would happen if '(2) Drought' was filled with water? There would be water everywhere! Oh, and additional cliffed elevations would appear.. for no reason. Plus, of course, the players would escape from the lower area to the elevated one to avoid the flooding of their bases. Sticking to your starting location for the entirety of the match might not be the best idea considering the amount of valuable resources and other goods located on the smaller islands.

'(3) Unfair Advantage' is a remake of the Tiberium Wars map and a new addition to the Fortress game mode which has been revamped and all of the clones of standard maps have been replaced with new unique entries. Additionally, the amount of resources, defenses and freebie tech buildings given to the defender has been normalized in all of the maps in this mode, although with the rising amount of players the defenders might get additional special boons which vary from map to map.

'(6) Loaded Dice' is another new "Islands" map with a unique design that puts emphasis on defending the choke points in both water and land areas. The naval fights will take place out in the open, however the deciding factor will be the ability to break through a side's defenses. The possibilities to attack from the ground are limited, however you can be sure land units will be used to fight for the additional resources.

'(6) Stronghold Prime' is the ultimate "Fortress" map which pits 5 players against one poor defender who has to rely on a specific construction of his location and the bonuses he receives at the very beginning. With the initial upgrade to his defender, the defender might want to create more turrets than in any other "Fortress" maps and the possibility to place them on the concrete cliffs is another reason why he should do so.
 

If you'd like to help develop Mental Omega further, write an e-mail to mental.omega.apyr@gmail.com
Right now we're in need of additional Voxel Artists, 3D Artists, Mission Scripters and Voice Actors.
Single contributions are welcome. 



Posted on January 19, 2015 by Speeder - Comments: 0
Mental Omega News Bulletin #8 (12/01/2015)
I've asked recently what Mental Omega players' TOP 3 favorite units are. If you haven't voiced your thoughts on this matter yet, you might still do before I take a closer look at the results and reasons behind them, either in the comments here, on our Facebook page or here at ModDB. The most favorite unit will of course be removed, as it's probably the most overpowered one, yup.
It's Wolfhound, isn't it?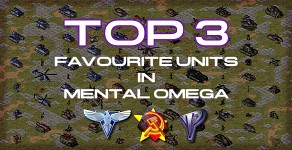 The Mental Omega story continues! The necessary mission remake is revealed today.
 

The gods are kind and have allowed the Allies to tame the powers of nature. A mission that has been in the making for a long time, long before even some of Act One missions were finished, will finally take place during the Act Two. The Allies need their Weather Controller and despite the destruction of the Weather Crystals, the Pacific Front was finally able to complete the weapon. Its presence did not go unnoticed however, and now the enemy is coming to take it down before it becomes operational. 
Something we did several times in Act One was reverse the roles of the player and AI in remakes of original missions from Red Alert 2, and it's a thing we'll do again with Operation: Stormbringer. It will be your task as the commander of the Pacific Front forces to defend the Weather Controller from enemy attacks and use its devastating powers to destroy their bases. Lucky for you, it will not be possible to destroy the device with a single tactical nuke.

Or will it? The mission in Red Alert 2 was way too easy because of that, perhaps now it is time for you to be in the shoes of the Allied commander whose hopes are easily dashed with a single nuke.
 


Map Preview #22: (2) Tournament Tower (new urban; standard map pool) by Toveena
Map Preview #23: (2) Pipeline Problem (desert; standard map pool) by Toveena
Map Preview #24: (6) Power Shift (urban; standard map pool) by Speeder
We've been on a 6-player Collection & Creation rampage recently, since we've noticed quite a demand for these kind of maps and a large disproportion between the amount of 2-player, 4-player & 6-player maps in Mental Omega. '(6) Power Shift' is another new addition to the set and it's a 3v3 team game map with a rather.. unique layout, I'd say. The map is really fun to play against the AI which will stop at nothing to deny you control over the important locations on the map. There is only so much you can do with the Oil Derricks and ore located at your starting position so expanding further to collect the gems and more Derricks is a must. Taking the Concrete Fortresses and special tech buildings might help you secure those locations.

Toveena has recreated two other 2-player maps from Tiberium Wars, namely the '(2) Tournament Tower' and '(2) Pipeline Problem'. No, destroying the Seismic Stabilizer on the former will not destroy everything else on the map, it is located in a seismically inactive region and the device is no longer working. It's just there to block easy movement for your ground forces with its rather larger size.
 
With the Ares tags EnemyInsignia=, Insignia.ShowEnemy= and customizable insignia for every veterancy level, I've done some modifications to fix several problems and improve other minor aspects of the game. Right now, no insignia on your unit is visible for your enemy to conceal their status or presence on the battlefield. Units hiding in the trees or behind buildings will no longer be exposed because of their veteran or elite status.

All hero infantry gain a special insignia on the basic level to help you find the unit in a crowd. Libra, thanks to the new special symbol for heroes can now be easily spotted by the user in a group of Libra Clones, which on the other hand will no longer display the weird 3-square symbol they had in Beta Revision 1. A unique symbol also applies to spies - you will now be able to see an eye symbol next to your and your allies' infiltrator units. You will not see this symbol on enemy spies and neither will units which detect disguise reveal it. The look of these symbols might change.

I've considered something similar for the Engineers, but since you can disguise your spies as them and the insignia wouldn't carry over, it would be too easy to spot the "false Engineer". 

If you'd like to help develop Mental Omega further, write an e-mail to mental.omega.apyr@gmail.com
Right now we're in need of additional Voxel Artists, 3D Artists, Mission Scripters and Voice Actors.
Single contributions are welcome. 



Posted on January 12, 2015 by Speeder - Comments: 0
Mental Omega News Bulletin #7 (5/01/2015)
Happy 2015! The end of 2014 and the beginning of 2015 has seen a rise in the amount of players on the Mental Omega multiplayer servers. Have you been enjoying it?

All services available for the players have been provided by CnCNet, which is rapidly becoming the #1 choice for classic Command & Conquer multiplayer gaming. After the upgrade to CnCNet5, efficient online gameplay is available for Tiberian Dawn, Red Alert and Tiberian Sun with Yuri's Revenge support to come. When the time is right, Mental Omega will rely on CnCNet5 as well, providing you with more stable multiplayer, additional game customization options and more.
 


As of January 4th 21:20 (CET), CnCNet's player peak rose to 512, which is a very impressive number if you ask me. For more information on CnCNet and how to play the classic Command & Conquer games online, visit their new shiny website. You can also follow CnCNet on Facebook and Twitter. The first three C&C titles are available for free so the only thing stopping you from playing online is a few clicks.

In other news, we are looking for voice actors again! There'll be new units in the next release which will require new voice overs. If you are interested, send a voice demo to mental.omega.apyr@gmail.com. 

Now, let's show you some things we've been working on recently.
 



At the end of Act One, the powers have shifted. The European Alliance has fortified itself in Great Britain, the Russians emerged victorious over their foes and control most of the continent, the Chinese struggle to hold power in the Far East and the army of the United States is but a shadow of its former self after the devastating attack on Chicago. The question remains: where's Yuri? He's still out there. He's preparing for.. 


The new 'No Dilemma' mission is loosely based on the original from Mental Omega 2.0, in which Yuri's forces reveal themselves to the world and conquer the city of Moscow. While the original did not include the part in which Shadow Tanks sabotage Moscow's power sources, this one will. We've remade the map of Moscow from scratch with the use of expanded snow terrain to resemble the capital city closer than the map from Red Alert 2. The Red Square is not just a tiny building, but a properly structured field that includes the GUM and Lenin's Mausoleum, the artwork for which was created by Nooze.

'No Dilemma' is chronologically the first mission of 'Act Two' and is the first of many events which will later be referred to as The Mental Omega War. Act Two will consist of 36 new missions.
 



Map Preview #19: (2) Frontier Duelists (urban; standard map pool) by Toveena
Map Preview #20: (6) Battlebase Hexis (snow; standard map pool) by Toveena
Map Preview #21: (6) Misery Malice (desert; standard map pool) by Toveena


Toveena once again proves his skills in Red Alert 2 skirmish map design and expands the Mental Omega map pool with these three additions. '(2) Frontier Duelists' is a simple but unique map which gives an opportunity for fast open gameplay while demanding control of important expansion points. Capturing the Base Expansion Post near the gems and placing your first Ore Refinery there might just be the move that will give you the advantage. The water breakers placed around the island limit movement of amphibious & hover units while making aircraft more important.

'(6) Battlebase Hexis' is another map which relies on the urban expansion of snow terrain and it's a remake of the Red Alert 3 Uprising map. While this one doesn't have the special futuristic features of the original, the layout was closely recreated to resemble it in detail with the snow urban cliffs. '(6) Misery Malice' is the expansion of the fan favorite 'Twisted Malice/Double Malice' maps, adding two players to the top. Each of the confronting players from the left and right side can fight for a unique healing structure.
 


Speaking of 'Operation: No Dilemma', here's how the original mission went in version 2.0 from 2005.



If you'd like to help develop Mental Omega further, write an e-mail to mental.omega.apyr@gmail.com
Right now we're in need of additional Voxel Artists, 3D Artists, Mission Scripters and Voice Actors.
Single contributions are welcome. 


Posted on January 4, 2015 by Speeder - Comments: 0
Mental Omega News Bulletin #6 (15/12/2014)
As the end of the year approaches, the download count for Mental Omega 3.0 closes in on the round number of 100,000. Seeing this much interest in our little project and having entered the TOP100 of ModDB's 2014 Mod of the Year for the 5th time in a row in this annual contest rekindles my interest in continuing it. While we didn't make the update many were waiting to happen this year, we haven't been slacking off and I hope the new content we've been working on and the improvements to what you already have will make up for it next year. There is a big thing coming along with long overdue fixes and I think you'll like it.

Big thanks to everyone who voted for us this year, the second round is still on-going so if you'd like to vote for us again, head to the voting page with the TOP100 mods.
 

Yuri is love, Yuri is life. Yuri restarts the Psychic Amplifier project and is keen on defeating the Allies hidden within the London Fortress without having his forces ever set foot on the British Islands. His device is capable of reaching the Euro Alliance forces from mainland Europe, however Yuri does not just pick a random location for the construction site. Yuri sends a message, Yuri defies all authority. He has constructed a device in Rome and takes the role of the Puppet Master.
However, there are others who want to try their hand at pulling the strings. In order to take out the device, a risky plan is put into action, perhaps the only way to prevent the Psychic Amplifier from completely taking control over your troops. What does it take to create a safe area within the Amplifier's zone of influence? Play 'Puppet Masters' and claim the mission's namesake as your title.
 



Map Preview #15: (2) Knockout (urban; standard map pool) by Toveena
Map Preview #16: (2) Battlebase Beta (urban; standard map pool) by Toveena
Map Preview #17: (2) Amazonas Zeta (temperate; standard map pool) by Toveena
Map Preview #18: (2) Freezing Field (snow; standard map pool) by Toveena
We like symmetry. We are the fans of symmetrical maps, which is probably something you have already noticed. With so many subfactions and different balance setups, if you added the factor of completely assymetrical maps, that would be quite a mess. Be it remakes, maps inspired by layouts we've liked, we want to give the players even chances when it comes to terrain design, especially on 2P maps.
 
It shouldn't be a surprise by now that Mental Omega 3.0 and its future developments are often made possible thanks to Ares Expansion DLL. The entire 'big thing' we're working on right now relies on its new features. Before we get to that however, there are other misc things Ares allows us to create.

The newest addition to the Euro Alliance arsenal is the Lightning Rod, which is accessible from the Shield Command. Placing this structure on the battlefield will temporarily grant you an emergency power boost using the natural energy of lightning (1000 power units, which decreases steadily as the Rod approaches the end of its lifespan). It will also boost the firepower of all Thors near the Rod itself.

There are several Ares features put to use here. Such as a support power which places a structure on the battlefield, done with UnitDelivery. Increasing a Thor's firepower and making it show a fancy red arrow is done with AttachEffect. To properly apply the effect to the units nearby, use of Custom Armor (the weapon affects Thor and Thor only) and Airburst enhancements (makes the effect always active via targeting of any unit on the battlefield, but the sub-weapon is the one which applies the effect to the Thors) was made. Since the Lightning Rod isn't supposed to stay alive forever, it shouldn't be possible to prolong its lifespan with Force Shield, which is where we use Force Shield modifier. 

Euro Alliance Lightning Rod support power (artwork by Nooze)
As you are probably aware of by now, the original Floating Disc has been downgraded in Mental Omega 3.0 a bit. Under its new name, the Invader, it is now a Tier 2 flying anti-infantry unit. It retains some of its sabotage capabilities  as it will still be able to drain money from Refineries or disable any defensive structure, even the unpowered ones. The original ability to shut down a player's entire power supply by attacking a single Power Plant felt like too much, which is why that particular ability has been removed. 

Invader using the draining ability
However, thanks to a new feature in Ares DLL, the customization of draining abilities for the Invader has been expanded. It is now possible to make this particular unit shut down power just from the Power Plant it is attacking with the Drain.Local tag. You can also customize the exact amount of power the unit will drain with Drain.Amount. More information as usual is in the documentation. In the next version of Mental Omega, the Invader will be able to shut down a single Power Plant. Watch out for those Nuclear Reactors! 

"Proselyte, intel acquired from the Kanegawa Industries Complex in Kagoshima contained the blueprints of several mechanical frames we have not seen before. We assumed they were prototypes, the only one which was successfully realized by the Pacific Front forces being the Tsurugi Powersuit.
However, a recent sighting by our Initiates has confirmed activity of a small division of bipedal walkers which resemble the design included in this captured material. We must be careful. Perhaps the Pacific Front is planning a rebellion, or maybe it's the Chinese who have found a way to complete one of Kanegawa Industries projects. We are unsure if these suits are manned or not, which may bring our psychic powers into question. We cannot allow this!"
Enjoyed "Contagion" from the Twisted Insurrection soundtrack? You might want to check out these two new tracks I've created for the next update of Aro's Tiberian Sun modification. After creating a subtle remix of "Act on Instinct" for the Allies in Mental Omega 3.0 I thought I'd have another go at the classic Frank Klepacki song and make a version suitable for TIn's eclectic electro soundtrack as well.
Viperbeat



Act on Insanity

Do you know how to unlock the Cyborg Commando in Beta Revision 1 yet? 

If you'd like to help develop Mental Omega further, write an e-mail to mental.omega.apyr@gmail.com
Right now we're in need of additional Voxel Artists, 3D Artists, Mission Scripters and Voice Actors.
Single contributions are welcome. 



Posted on December 15, 2014 by Speeder - Comments: 5
Mental Omega News Bulletin #5 (1/12/2014)
Yesterday it's been exactly 12 months since the release of Mental Omega 3.0 Beta Revision 1. The day after its release, ModDB began the 2013 edition of their annual awards, in which we reached the TOP100. This year, with the beginning of December, the ModDB 2014 Mod of the Year Awards begins.
If you feel like supporting us in this competition, you can head to our mod profile @ ModDB and cast your vote. Every vote counts and it's a great way to show your support for the project and future developments thereof.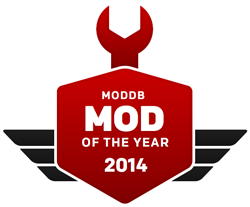 Now, let's return to the weekly news bulletin, shall we?
 


Question: Will there be a mission in London in Act Two? Answer: yes, obviously.
The remaining Allied forces are hiding there after they emerged victorious in Sunlight.


..okay, that's a bit of a cop-out. You might have seen this picture before on ModDB. Let me show you a screen from a different mission.

 




Map Preview #12: (2) Tournament Arena (urban; standard map pool) by Speeder
Map Preview #13: (4) Battleblock Theatre (urban; standard map pool) by Toveena
Map Preview #14: (6) Advanced Warfare (new urban; standard map pool) by Toveena

'(2) Tournament Arena' is a loose remake of a very popular tournament map from Tiberium Wars. Nothing describes this map better than the word "simplicity". It is very open but still has several key areas which you should take control of as soon as possible in order to gain advantage over your enemy, or rather, to not stay behind. The Base Expansion Post near the gem fields is an important asset; it must be captured and defended as soon as possible. Perhaps it's worth capturing right after your first Barracks are up? You'll have to try.

'(4) Battleblock Theatre' is Toveena's original and very unique skirmish map divided into 25 zones, each zone has very interesting objects the players might find useful. The center of the map has a Tech Missile Silo, Tech Sat Hack Centers & Tech Secret Labs, all surrounded by Tech Irradiators which will now be seen on skirmish maps other than '(8) Cowfields'.

'(6) Advanced Warfare' is based on one of the Uprising Challenges, although this one was designed for 6-player battles. Capture the Tech Armory in the middle for quick veteran infantry. Go for the Tech Expansion Posts on the remote concrete islands to gain fast access to the only gems on this map and slam down a Shipyard at the enemy's gates, or rather, shores.
 


"Proselyte, as Yuri foresaw, our enemies from the European Alliance continue to develop their technologies and experiment with new weapons. We can sense it. Our foes are creating potent weapons which they will use against us. We must strike first and destroy the SteinsTech Hangar within the London Fortress, it so happens we have just the thing for that."

Thanks to Ares DLL you can heavily customize the Chronosphere weapon. A long time ago, when I first tried to use its new settings, I achieved quite devastating effects.. I'm still trying to figure out how to expand the chrono technology for the Allies in some interesting ways, the Allies definitely are developing something interesting in the London Fortress! Read the documentation here.


 

If you'd like to help develop Mental Omega further, write an e-mail to mental.omega.apyr@gmail.com
Right now we're in need of additional Voxel Artists, 3D Artists, Mission Scripters and Voice Actors.
Single contributions are welcome.
 


Posted on December 1, 2014 by Speeder - Comments: 3
Mental Omega News Bulletin #4 (24/11/2014)
"Welcome back Proselytes, did you know Red Alert 2 is now 14 years old? Long live Red Alert 2!
Stand by for battlefield update. The enemy is sending secret messages we have yet to understand."

If there is one mission that epitomizes a recurring theme in the Act Two missions, it would be..
After the impossible team-up of Allied and Soviet heroes and the establishment of (almost) every hero's presence in Act One, you'd think more of these missions would happen and that we'd even step up our game and make a mission which features 3 heroes of a side. Your predictions are right and that will happen. That's all I'll say for now about heroes teaming up.

Operation: Divergence is an important milestone in the Epsilon's quest for world domination. The still-fighting Soviets managed to find a device which is crucial to Yuri's plans, so both Rahn and Malver are sent to Germany to retrieve it. The mission combines a strike force micro-management type mission with standard base building and base-vs-base gameplay. Be prepared to face more than just one enemy in Act Two base building missions though.
 



Map Preview #9: (2) Casual Encounter (snow; "Islands" map pool) by Speeder
Map Preview #10: (2) Nevada Valley (temperate; standard map pool) by Toveena
Map Preview #11: (4) Kool Party (snow; standard map pool) by Toveena
As you can see, we've remade some fun Red Alert 3 maps just like we did in the past with such maps as '(2) Industrial Strength' and '(3) Pyroclasm'. This time, the map pool has expanded with remakes of '(2) Casual Encounter', available in the Islands game mode, and '(4) Kool Party'. Both of the maps take place in the snow theater and force players to rely on amphibious/naval forces. Because, you know, water. '(2) Nevada Valley' is one of those maps that proves how important the high ground really is.
 

Lots of players have been complaining about the inability to tell which units detect stealth objects, especially after getting their entire armies destroyed by Malver alone. Since I understand most of you don't read the instructions or anything from our detailed Factions section which contains all the important information, I've decided to make this specific information clear seen on the cameo itself.

If there is any other information which you think should be included on a cameo, write about it. 

Borillo: amphibious + stealth detection
Here's something I've been experimenting with to get rid of the Firestorm.Wall tag on the EMP Mine, because reasons. After seeing a certain post on PPM, I was inspired to use Ares' UnitDelivery and AutoFire options on super weapons to allow the placement of multiple structures at the same time. This is the first contender and a likely keeper: the EMP Mines. Once you build them, you will have to place a 1x1 structure, around which 5 EMP Mines will be spawned at the free cells. Units can still go over these thanks to the new IsPassable tag.
 

This is semi-related to Ares technology, but I am yet to see a mod which uses custom tesla bolts combined with extended prism support to create a new version of 'Prism Forwarding: The Movie'. Maybe I should work on a sequel myself.. How to achieve this in game? Read the Ares documentation first!

If you'd like to help develop Mental Omega further, write an e-mail to mental.omega.apyr@gmail.com
Right now we're in need of additional Voxel Artists, 3D Artists, Mission Scripters and Voice Actors.
Single contributions are welcome.
 



Posted on November 24, 2014 by Speeder - Comments: 4