Latest Release:
3.0 Beta Revision 1 (30 Nov 2013)
Stream is currently
Mental Omega #ControlMOre
We're alive. We're designing. We want you to #ControlMOre. Here's a teaser of what's to come.
 

Follow our YouTube channel to be notified about upcoming intel updates.

Posted on October 16, 2014 by Speeder - Comments: 0
Mental Omega Recruitment: Mission Scripters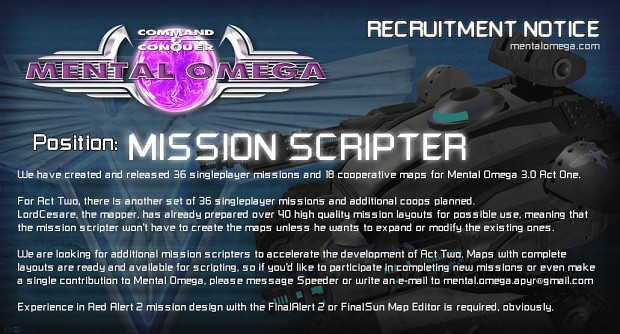 (Click to enlarge)


Boom. There've been so many great Red Alert 2 mission designers throughout the years, perhaps some of them will respond to our recruitment notice. In other news, we're trying to sort out some issues with the updater while still testing Ares 0.7 on multiplayer. Stay tuned. We're still here.

Posted on July 1, 2014 by Speeder - Comments: 0
Mental Omega News: 27/05/2014 - Catching up!
It's been a few months since the Beta Revision 1 release of Mental Omega: Almost Perfect Yuri's Revenge 3.0 and even longer since the last news post was written on this page. Of course I write something on my Twitter page every few days and post various updates on the ModDB & Facebook profiles, but not all of our fans follow us there. Besides, it's high time to make some regular updates, so you can expect these news reports to pop up more often.

First of all, in case you haven't noticed already, we have a shiny new link: http://mentalomega.com. The old one still works but we recommend that you update your bookmarks with the new address. In the wake of Beta Revision 2 update the website will become more active and up-to-date, we'll also be including more details on missions in our campaign and news from both the dev team and bits from our fans like new maps, videos and screenshots, just to name a few. We have also recently launched the Chinese and Polish versions of the website.

After the first release, we've been following your feedback closely and reading reports on the bugs you have encountered. Based on the information you've provided, we have updated certain elements, fixed some of the bugs, and introduced some experimental changes. All of these changes will be available in Beta Revision 2. It will be a patch for the first release, so no full download will be required. If you haven't downloaded Beta Revision 1, now is the time to fix that mistake.

The changelog for Beta Revision 2 is live and is subject to change until the release. Since we work on the mod in our free time, the work pace might seem slow. If this update is successfully delivered however, the next patches should appear at a faster rate and we'll focus on new content, for which we do have plans. For now, however I am considering waiting for Ares 0.7 release, as it might fix some very serious issues on newer systems.

VIEW THE CHANGELOG. (WIP)

Besides Act Two, we have more features planned for the future, but the ability to realize it depends on the amount of support this project and our team continues to receive. If you enjoyed what you've played so far and would like to help with the development, you can read the Recruitment page first.

Now, time for some media. If you follow us on on ModDB & Facebook you have probably seen most of these already, but let's catch up first. The next news item with more pictures will be written soon.

New mission loading screens for Act One. The ones in the first beta revision were just a placeholder so new ones were created by Nooze and tomsons26 in the classic style.
 





Tech Buildings update. A new page has been added with information on old, new and updated Tech buildings. New additions in Beta Revision 2 include the Tech Maintenance Center, Tech Concrete Bunker & Fortress, and Tech Airfield.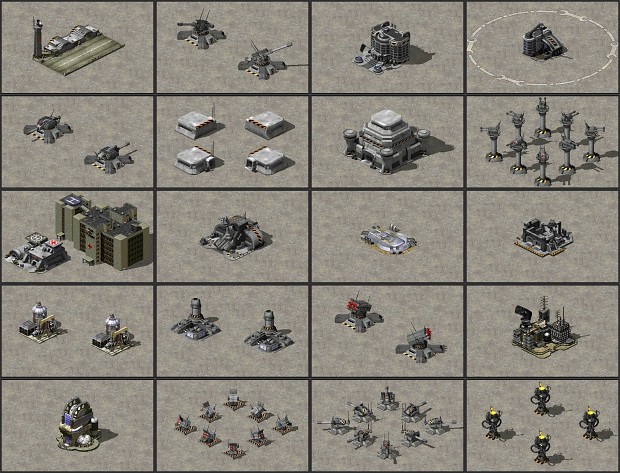 New and updated Game Modes. The widely requested mode which allows you to construct all sub-faction technology will appear in Beta Revision 2 under the name MixTech. Thanks to new Ares DLL features, we could improve the logic behind King of the Hill mode, in which you now capture and defend a Psychic Beacon to mind control all of your enemies. A spiritual successor to Megawealth, Petrowar makes the race for Oil Derricks a must if you want to improve your economy.
 





New Maps. The map pools for Fortress, Islands & KOTH modes have been heavily updated. Over 50 new skirmish & multiplayer maps have been added to BR2.
 





Hopefully more new maps and perhaps even missions will come from fans in the future as it is our intention to release a modded version of Red Alert 2 map editor called FinalOmega APYR with Beta Revision 2. The editor has been modded by RP who is currently working on an entirerly new map editor that might be compatible with Mental Omega 3.0. We'll keep you posted.

New Faction Features

Latin Confederation's Prison Facility which allows you to reverse-engineer most infantry you have captured with the Drakuv, making it possible to train them in your barracks until the Prison is destroyed or infiltrated by a spy.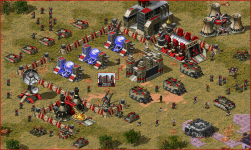 The Chinese EM Pulse requires its own structure, the EMP Station, which becomes available after building a Chinese Science Lab.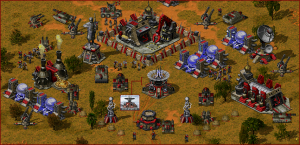 As a bonus, here's a music track Speeder composed for Twisted Insurrection, called Contagion.
 

That's all for today, stay tuned for the next update! Remember that you can chat with us and other Mental Omega players on our IRC channel every day. You might even catch a glimpse of some secret development there.

Posted on May 27, 2014 by Speeder - Comments: 0
MENTAL OMEGA 3.0 RELEASED!
The time has come! After months of development, Mental Omega 3.0 is finally here!

 Furthering the Red Alert 2 legacy, Mental Omega builds on what was established by Westwood Studios and expands upon the conflict between the Allies, Soviets, and Yuri's Epsilon. Enhanced with the powerful Ares DLL, Mental Omega 3.0 strives to bring new features to Command & Conquer Red Alert 2 Yuri's Revenge while maintaining a strong sense of gameplay balance. Mental Omega 3.0 continues where the first Red Alert left off and branches out into an expanded universe with brand new missions for all three factions.

Mental Omega 3.0 requires a working installation of Red Alert 2 & Yuri's Revenge to be played. All releases (original 2001 release, The First Decade, The Ultimate Collection etc.) are compatible with it.
 

 

The first release includes:
9 new subfactions with their own unique sets of units
36 new single player missions, including a campaign for Yuri
18 new cooperative maps for 2 players
new skirmish/multiplayer maps
new skirmish/multiplayer game modes
updated visuals & audio
a new soundtrack (separate download)
Here are some links you might find useful!
 
How to install Mental Omega 3.0?
How to play Mental Omega 3.0 on multiplayer?
Complete list of subfaction features in Mental Omega 3.0!
How you can contribute to further Mental Omega 3.0 development!
Other answers for very important and inevitable questions! Also troubleshooting.

If you're not familiar with Mental Omega 3.0 yet, here's the release announcement trailer:
 

Discuss Mental Omega 3.0 and arrange multiplayer battles on our forums and in our IRC channel.

What's next? We'll be improving and expanding the mod even further, but for now, we'd like to hear your feedback! We hope you enjoy playing the new Mental Omega. Thank you for all your support!

Posted on November 29, 2013 by Speeder - Comments: 19
Subfaction Spotlight #9: Epsilon Headquarters
The time has come for the last episode before the first Mental Omega 3.0 release on 30/11/13. The Subfaction Spotlights end this Wednesday, November 27th GMT 19 at http://twitch.tv/mentalmeisters. As Irkalla rises, we conclude with Epsilon Headquarters.
 

The Latin Confederation spotlight has already been uploaded to our YouTube channel. Earlier spotlights are also available there.
 



Subfaction Spotlight #8: Latin Confederation

We'll see you on the battlefield! Expect more release-related news soon.
Follow us on Facebook and Twitter for daily Mental Omega updates.

Posted on November 25, 2013 by Speeder - Comments: 1
Subfaction Spotlight #8: Latin Confederation
On that day, mankind received a grim reminder: we lived in fear of the Bomb Buggies. The Mental Omega 3.0 Subfaction Spotlights continue this Wednesday, November 20th GMT 19 at http://twitch.tv/mentalmeisters. It's time for the Latin Confederation.
 


The Euro Alliance spotlight has already been uploaded to our YouTube channel. Earlier spotlights are also available there.
 



Subfaction Spotlight #7: Euro Alliance


Additionally, here's the awesome fan art created by blubb for Mental Omega 3.0 featuring the Pacific Front hero Norio.
 


We'll see you on the battlefield!

Posted on November 19, 2013 by Speeder - Comments: 0